Priests Abused 'Thousands of Children over 30-Year Period'

By John Cooney
Irish Independent
April 10, 2009

http://www.independent.ie/national-news/priests-abused-thousands-of-children-over-30year-period-1705315.html

THOUSANDS of children were raped and abused by Catholic priests, many of them serial offenders in the Dublin diocese over a 30-year period, a shocking report on clerical sex abuse will reveal next month.

The horrendous scale of the abuse between 1975 and 2004 was revealed yesterday by Archbishop of Dublin Diarmuid Martin, who urged his priests and Catholic lay people to receive the damning report by Judge Yvonne Murphy with "humility".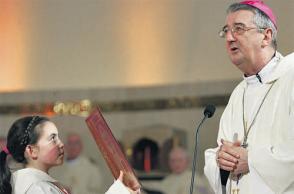 Archbishop of Dublin Diarmuid Martin celebrating Mass yesterday at the parish of Larkhill and Whitehall. Earlier at the Pro Cathedral the archbishop said the Church had still not come to terms with the scale of abuse some of its members were involved in
/td>


Archbishop Martin said that since he took over the running of the country's biggest diocese five years ago, he had read secret files which he handed over to the Murphy Commission and had heard the tragic personal stories of victims. From published statistics and from listening to victims, it was possible, he said, to name and identify at least 500 paedophile priests.

But he warned that because a number of these identified priests were serial abusers "the numbers of victims must be going into thousands".

Torture

"This is a sad thing to say," added the former diplomat who was appointed by the late Pope John Pope II five years ago to clean up the clerical sexual abuse scandals that devastated the period in office of his predecessor, Cardinal Desmond Connell.

Addressing the Holy Thursday Chrism Mass in Dublin's Pro-Cathedral, which was attended by priests from throughout the archdiocese, Archbishop Martin said that the full horror of decades of physical, sexual and psychological torture of children has not been recognised. Admitting publicly that "the archdiocese of Dublin is facing challenges of a kind that it has not experienced for many years," he said "the Report of the Commission on Child Sexual Abuse will shock us all.

"It is likely that thousands of children or young people across Ireland were abused by priests in the period under investigation and the horror of that abuse was not recognised for what it is." Last night a senior church source told the Irish Independent that the report of the Government-appointed Commission of Investigation into the Archdiocese of Dublin is likely to be published in "the next four to six weeks time".

The report is expected to be severely critical of the handling and covering up of abuse complaints by Cardinal Connell and his two predecessors, the late Archbishops Kevin McNamara and Dermot Ryan.

The Dublin Archdiocese Commission of Investigation was established in 2006 to investigate allegations of child sexual abuse involving Dublin diocesan priests, as well as priests and members of religious orders who worked in or were attached to the capital's parishes and schools.

This report was considered necessary by Bertie Ahern's Government after huge public revulsion over the scale of abuse revealed in a similar inquiry into the Diocese of Ferns in Co Wexford.

In recent months Archbishop Martin had been bracing his priests and people for even worse findings in the Dublin report which had been due out in January, but was postponed after the Government extended its remit to investigate Bishop John Magee's handling of complaints in the Diocese of Cloyne in Co Cork.

In recent years Archbishop Martin has published an annual audit which has shown that between 1940 and 2008, child sexual abuse allegations were made against 77 priests of the Dublin Diocese, while suspicions were raised about another nine.

"The report will make each of us and the entire church in Dublin a humbler church," added Archbishop Martin.