Sandra Cantu Likely Died before Search for Her Began

By Mike Martinez
Santa Cruz Sentinel
April 11, 2009

http://www.santacruzsentinel.com/nationalbreaking/ci_12122595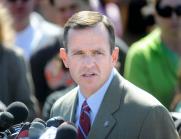 In Tracy, Calif., on Saturday, April 11, 2009, Tracy Police Sergeant Tony Sheneman talks to the...



TRACY — Eight-year-old Sandra Cantu was likely dead before her mother called police to report her missing more than two weeks ago, police said Saturday, though a cause of death or motive hasn't been disclosed.

Police late Friday night arrested a Sunday school teacher who said Sandra Cantu visited her home March 27, the day she was last seen alive. Melissa Huckaby, 28, is being held without bail at San Joaquin County jail on suspicion of kidnapping and killing Sandra. She is expected to be arraigned Tuesday in San Joaquin County Superior Court.

Tracy police Sgt. Tony Sheneman said inconsistencies in comments the woman made to investigators as well as to the media prompted an arrest.

Tracy police said the Jacobson Elementary School second-grader — who was good friends with Huckaby's 5-year-old daughter — was dead before her mother called 911 at 8 p.m. March 27 to report her missing.

"From information gathered, Sandra was killed not too long after she went missing," Sheneman said early Saturday morning, adding that there are no other suspects in the case.



Family photo of 8-year old Sandra Cantu, from Tracy, Calif.



Although the arrest is good news, said family members, "There's never closure," said Sandra's aunt Angie Chavez.

"This is just the beginning," said her uncle Joe Chavez. "Are you kidding me? We have to live the rest of our lives without Sandra."

The little girl was last seen on a surveillance videotape skipping by her home in the Orchard

Estates Mobile Home Park about 4 p.m. Her body was found inside a black suitcase in an irrigation ditch, about two miles north of the park, Monday morning, 10 days later.

"Everyone "... wished us luck in finding the guys, the monster that did this," Sheneman said. "Finding out, one, that it's a woman that is responsible for Sandra's kidnapping and murder, and then finding out that it's a member of the community, is another blow. To find out it was someone Sandra's family knew is a double blow."

A cause of death will not be revealed until a trial is held. A coroner's report on the girl, along with other documents, are expected to be sealed by the court.

A graduate of Merrill F. West High School in Tracy in 1998 or 1999, Huckaby is the granddaughter of Clifford Lane Lawless, pastor of Clover Road Baptist Church, which investigators searched twice this week. She lived with Lawless and his wife in a unit of the Orchard Estates Mobile Home Park, across the street and about five houses down from Sandra Cantu's home. A woman who answered the phone at the Lawless home Saturday identified herself as Joanie Hughes, daughter of Connie and Lane Lawless.


In Tracy, Calif., on Saturday, April 11, 2009, Jessica Tova, of Tracy, holds her 2-year old...



"We're very shocked," Hughes said. "We were out of town at the time (of the arrest) and we're just coming in and trying to gather our thoughts and get a good handle on our situation."

Hughes declined to give details about Huckaby or talk about the case, but she said the family was preparing a statement for the media.

"My brothers and I do plan on preparing a statement and will probably contact the media once we've had a chance to gather our thoughts for a moment," Hughes said.

Huckaby was arrested late Friday night after speaking with Tracy police for several hours without an attorney. Deputy Les Garcia, a spokesman for the San Joaquin County Sheriff's Office, said Huckaby was "under observation" as a precaution. She has declined interview requests, the Sheriff's Office said.

Sheneman said Huckaby became emotional during her interview with investigators, which lasted until 1:30 a.m. She had been questioned twice in the past week.

He said they found the place where they suspect Sandra was killed but couldn't reveal where it is.



Melissa Chantel Huckaby



"This has been difficult for any parent in the country," Sheneman said. "The parents in Tracy were frightened because there was a killer amongst them. Professionally, while we're confident and pleased that an arrest has been made, you can never reverse what happened (to Sandra). There is no joy in this."

Huckaby told several media outlets Friday the suitcase Sandra Cantu's body was found in on Monday belonged to her, which Sheneman confirmed Saturday morning. Huckaby said the suitcase disappeared from her driveway in the mobile home park the same day Sandra was reported missing.

Huckaby said she had prepared the suitcase with scrapbooking items to be taken to Clover Road Baptist Church for a Sunday school class she teaches. Huckaby said she left the bag in her driveway after getting distracted while searching for her phone and keys.

When Huckaby's grandmother Connie Lawless called her to say she had found the missing items, Huckaby said she remembered the suitcase and asked family members to check on it. It wasn't there.

She told the Tracy Press newspaper she meant to file a police report but never did. Some television stations reported Huckaby said she filed a police report.

According to logs with the San Joaquin County Sheriff's Office and the Tracy Police Department, no one reported a missing suitcase from the Orchard Park Mobile Home Estates or the Clover Road Baptist Church in the past three weeks.

Huckaby said Sandra had stopped by her house March 27 to play with her 5-year-old daughter, but she told Sandra the girl wasn't being allowed to have a friend over. She said Sandra then left to go to another friend's house.

The last images of Sandra, captured on a video surveillance camera set up by her grandparents, show the little girl skipping across the roadway toward her home before veering right and heading in another direction.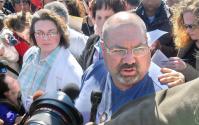 In Tracy, Calif., on Saturday, April 11, 2009, Sandra Cantu's uncle, Joe Chavez right, his wife...



Sandra's body was found Monday, inside a large black suitcase discovered in an agricultural pond being drained two miles from the mobile home park on West Clover Road, just off Interstate 205 in north Tracy.

A source close to the investigation said that at first glance there were no visible signs of trauma on the girl.

Lane Lawless was in the media spotlight when FBI investigators searched the church last week, but police have said he is not a suspect. The church was searched again about 4 p.m. Friday and several unidentified items were reportedly removed.

The church's Web site states that two services are held there weekly, but neighbors of the older one-story building say they rarely see anyone there.

In an unrelated case, Huckaby pleaded no contest this year to one count of theft with a prior conviction. She's scheduled to be sentenced Friday, according to court records.

A massive search for Sandra, whose picture was on fliers all over the Central Valley and Bay Area, included hundreds of volunteers and law enforcement officials, and went on for days around the clock. It ended when farmworkers found the suitcase and reported it to authorities as being suspicious. Sheneman said the farmworkers have refused to accept the $32,000 reward offered by Tracy Crime Stoppers and the Carol Sund/Carrington Foundation for information leading to Sandra's return and the arrest of a suspect.

Staff writer Jeanine Benca contributed to this story. Reach Mike Martinez at 209-832-3947 or mike.martinez@bayareanewsgroup.com