Marty Gervais: History of Diocese Includes Scandals

Court Convicts
April 13, 2009

http://www.windsorstar.com/news/Marty+Gervais+History+diocese+includes+scandals/1492599/story.html

It's not a pretty picture.

So says Windsor-born historian Michael Power about the history of the London diocese of the Catholic Church that he co-authored with Daniel J. Brock.

He said the scandalous revelations in the 1980s of sexual abuse by its clergy, in particular those of Rev. Charles Sylvestre, stand out as "a great shame, and a great hurt."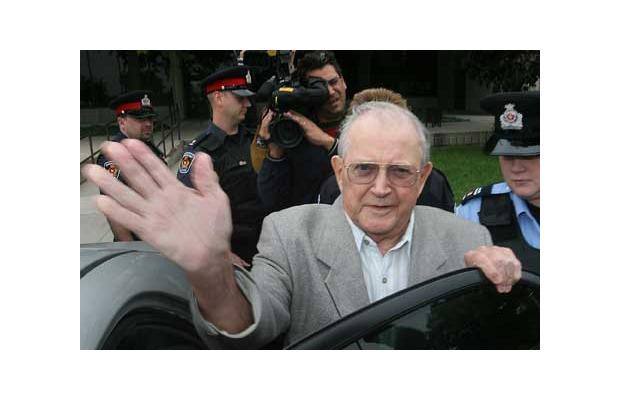 A new history of the London diocese doesn't gloss over its scandals, most notably the conviction of Rev. Charles Sylvestre for sexually abusing children.



Power maintained the infamous behaviour of such priests was "sickening and revolting, and it has left a black mark on all the good loyal priests in the diocese, and has certainly harmed the moral authority of the church itself, and left parishes bewildered and upset."

This historian, who has written numerous books about Assumption in Windsor, as well as a history of the church in the Niagara region, believes his faith was not shaken by these stories in co-authoring this book, Gather Up The Fragments: A History of the Diocese of London.

He admitted that he found it "awkward" interviewing both former London diocese bishop, J. Michael Sherlock, and its current bishop, Ronald Fabbro.

"I couldn't avoid talking about it," said Power, who added that both diocesan officials were entirely forthcoming and open about the cases of sexual abuse.

"This is what happened — it's part of the history," he said.

"It's true, people felt betrayed. They (the victims) were young, vulnerable, and their lives have been ruined, but the bishop (Fabbro) has tried to bring reconciliation and comfort," the Power said.

The fact is, however, the author points out the diocese's "slowness in responding meaningfully and justly to the scandals further undermined confidence in the church."

In the book, Power writes: "In one sense … London became a test case in the Episcopal response to criminal charges of sexual abuse laid against priests."

Sherlock's discovery of pedophilia by priests, Power wrote, shocked the bishop. "His love of the priesthood made it extremely difficult for him to believe that any priest would engage in such deplorable behaviour."

Fabbro's public apology, however, at St. Ursula's in Chatham in August 2006 was groundbreaking. He told a packed church "there is no justification for abuse" and said the church failed in protecting the victims and their families.

But such controversy doesn't stand alone in the 153-year history of the diocese.

There were problems right from the start, said Power, who said its first bishop, Pierre-Adolphe Pinsoneault was arrogant, and too authoritarian and not "a good match" for the people.

Sexual abuse wasn't the problem. It a more a matter of arrogance on the part of this bishop, who hailed from a wealthy Quebec family. He wound up alienating most Catholics upon his arrival in London. His first act was to order the Loretto sisters to leave the diocese so he could seize their convent and reside there. Then he renamed the cathedral in London "St. Peter" and moved into its rectory.

A year later, the new bishop moved the headquarters of the diocese from London to Sandwich in 1859, taking up residence at Assumption.

Pinsoneault finally resigned under pressure, having become embroiled in one scandal after another and having driven out many of his own priests and two religious orders of nuns. His successor, Bishop John Walsh, by contrast, "led a diocese stunted in growth, burdened by debt and mired in controversy, to recovery, parish by parish," said Power.

Today's diocese, besides having to pay off a mountain of lawsuits, is also dealing with dwindling congregations, a shortage of priests and the closings of parishes.

Where in the past St. Peter's Seminary was bursting at the seams and most parishes had two clergymen living and working there, today "clustering" has meant one priest does double duty, shuttling back and forth between two churches on a Sunday.

"The glory days are over," said Power.

Debra Majer, assistant archivist for the London diocese, who helped research the book, was more optimistic. She said the diocese may not in the best of shape, but added, "we always manage to come out of it."

That's also Fabbro's belief, or at least, that's how he has met each crisis.

Since being made bishop seven years ago, this Basilian priest has faced up to the problems, and, said Power, he hasn't shied away from making tough decisions.

According to this author, Fabbro has taken "a direct and firm approach to the clergy sexual abuse crisis" and he has shown "his willingness to make difficult but critical decisions … guiding the parishes, priests and people through significant organizational changes."