Former Grand Prairie Priest Admits to Downloading Child Porn on Church Computer

By Jason Trahan
Dallas Morning News
April 13, 2009

http://www.dallasnews.com/sharedcontent/dws/dn/latestnews/stories/041409dnmetexpriestplea.cfaaef44.html

A former Grand Prairie priest has agreed to plead guilty to downloading child pornography on a church computer in 2005.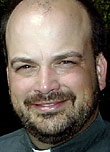 Matthew Bagert



Matthew Bagert, 40, was indicted in November for downloading four sexually explicit photos of boys. His plea agreement was filed Friday in Dallas federal court, and he will go before a judge in the coming days for a new plea hearing. He faces up to 10 years in prison, up to a $250,000 fine and possibly a lifetime of supervised release. His sentencing date has not been set.

Bagert was initially charged under state laws in Dallas County district court. But in 2006 the case was dismissed because a judge ruled that a fellow priest and a deacon at Immaculate Conception Catholic Church in Grand Prairie broke the law when they searched Bagert's church computer without his consent.

State prosecutors turned the case over to the U.S. attorney's office in Dallas, which filed federal charges.

According to court files, the Rev. Jesus Belmontes, an associate priest, said that he first saw what he thought was a questionable image on Bagert's computer in December 2004 but that he wasn't sure it was pornography.

Father Belmontes said that after attending a church workshop on recognizing and reporting sexual abuse in January 2005, he became concerned and decided to sneak into Bagert's office to search his computer because he feared making a false claim against his colleague.

The next day, Father Belmontes and deacon David Maida returned and videotaped the images they found. Grand Prairie police later executed a search warrant and arrested Bagert based on the images they found.

After the state case was dropped in 2006, Bagert was indicted in November 2008 and surrendered to federal authorities. He was put on supervised release awaiting trial, which was scheduled for next month.

Bagert has left the priesthood and recently worked as a traveling installer for hotel energy management systems. He is now married.