Police Ask for Additional Tips, Information in 8-Year-Old's Killing

CNN
April 15, 2009

http://www.cnn.com/2009/CRIME/04/15/slain.girl.case/

(CNN) — Police are searching for any other alleged victims of a Sunday school teacher accused of raping and killing an 8-year-old girl from Tracy, California.

"We are asking the public if they have any indication that any of their children may have had inappropriate contact with [the suspect] to contact us," Tracy Police Sgt. Tony Sheneman said Tuesday evening. "There has been no indication that this has happened. But she is a Sunday school teacher and did have contact with children, so that is why we are asking."

Melissa Huckaby, 28, was arrested and charged with killing and raping 8-year-old Sandra Cantu, a friend of her 5-year-old daughter.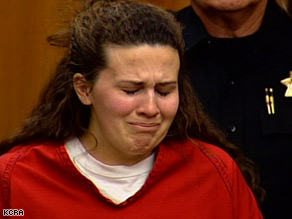 Melissa Huckaby is charged with killing 8-year-old Sandra Cantu, who was a friend of her own daughter.



Huckaby, wearing red jail scrubs over a white T-shirt, was in court Tuesday for an arraignment. She was charged with murder, kidnapping, the performance of a lewd and lascivious act on a child under 14 and rape by instrument.

If convicted, Huckaby would face the death penalty or life in prison without parole, San Joaquin County District Attorney James Willett told reporters after the hearing. A decision on whether to seek the death penalty will be made later, he said.

Huckaby did not enter a plea or speak during the court hearing, although she flinched when Sandra Cantu's name was spoken, and she cried at times.

Sandra's body was found April 6, stuffed into a suitcase and submerged in a pond at a dairy farm. Huckaby was arrested Friday night after questioning by police.

Sandra was last seen alive March 27 in the mobile home park where she lived with her family — the same mobile home park where Huckaby lives with her daughter. The two children were close friends and played together frequently, police said.

Huckaby is the granddaughter of Clifford Lane Lawless, pastor of Clover Road Baptist Church near the mobile home park, and she taught Sunday school at the church, police have said. The church was searched as part of the investigation into Sandra's disappearance and death.

Before her arrest, Huckaby acknowledged to a newspaper reporter that she owned the suitcase that contained Sandra's body. But Huckaby said the suitcase had been stolen.

Willett declined to comment on any of the evidence or allegations in the case, saying evidence would be presented in court.

A memorial ceremony is scheduled for Sandra at 1 p.m. Thursday at a high school in Tracy, police said.