The Installation of Archbishop Dolan

By Sewell Chan and Cara Buckley
New York Times
April 15, 2009

http://cityroom.blogs.nytimes.com/2009/04/15/the-installation-of-archbishop-dolan/?apage=1

Updated, 4:50 p.m. | Archbishop Timothy M. Dolan used the occasion of his installation as the 13th Roman Catholic bishop (and 10th archbishop) of New York on Wednesday afternoon to issue a forceful antiabortion message.

In a 20-minute homily at St. Patrick's Cathedral, the biggest and longest round of applause — one that led to a standing ovation — came midway, after he spoke of the church's mandate to "protect the dignity of every human person, the sanctity of human life," specifically "the tiny baby in the womb." He made only a fleeting and indirect reference to another divisive social issue, same-sex marriage, saying the church had at times been "ridiculed for her teaching on the sanctity of marriage." He had avoided explicit discussion of either issue during an earlier news conference, on Wednesday morning.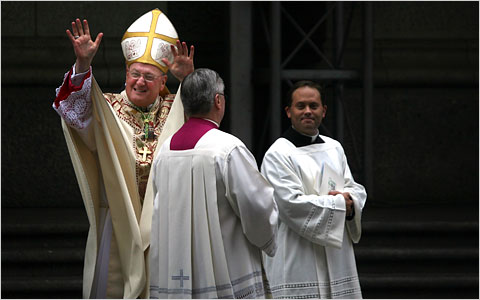 Timothy M. Dolan arrived to celebrate his first Mass as Archbishop of New York on Wednesday at St. Patrick's Cathedral.
Photo by Beatrice de Gea


The new archbishop was formally installed at 2:34 p.m. in a solemn but joyful Mass that was filled by clergy members, parishioners and leaders of the city's political and business elites. The cathedral burst into applause as Msgr. William Belford, the chancellor of the archdiocese, notarized the Feb. 23 apostolic letter appointing Archbishop Dolan, who had been the archbishop of Milwaukee since 2002. Looking characteristically jolly, the newly installed spiritual leader of New York's 2.5 million Catholics proceeded to embrace and kiss a series of prelates, clergy members and lay people from various communities and congregations, who lined up to congratulate him and, in some cases, present gifts.

Gov. David A. Paterson, Mayor Michael R. Bloomberg and Senators Charles E. Schumer and Kirsten E. Gillibrand were seated together in a front-row pew, at the helm of an audience of several thousand worshipers and onlookers, Catholic and non-Catholic alike.

A nun gave the first reading, in Spanish, from the Acts of the Apostles. There was no second reading, but instead a responsorial psalm, after which the congregation rose to its feet, and the bishops and prelates in attendance removed their miters. Then the Gospel acclamation, from the Gospel of Luke, about the resurrection of Christ, was sung.

The newly installed archbishop began his homily — his second in two days, having delivered one at a prayer service in St. Patrick's on Tuesday evening — some audience members looked up, smiling, while a few of the older priests, their heads full of gray hair, began nodding off.

Archbishop Dolan first thanked the assembled and especially Cardinal Edward M. Egan, his predecessor and New York's archbishop since 2000.

Archbishop Dolan's homily elicited laughs at various points, first when he hinted that the crowds were so plentiful because "everybody wants to take sanctuary on income tax day," and later when he thanked his mother, Shirley. "We were afraid this morning that she might not make it," he joked. "She heard that there was a sale on at Macy's."

The homily focused at first on the Easter message of rebirth, and of the triumph of hope over death. "Now in her third century, the risen Christ has been and is very much alive here," he said of the archdiocese of New York." He spoke of the archdiocese's historic embrace of poor immigrants (including the archbishop's Irish ancestors), and he broke into Spanish to reach out in particular to his "hermanos y hermanas" in the Latino community.

(Mayor Bloomberg's eyes had been flitting between the archbishop in the pulpit, and the flower-laden altar, which he fixed with a blank stare. He had been chewing gum the whole time, but when the archbishop began speaking his few sentences in Spanish, Mr. Bloomberg — who has taken Spanish lessons himself — gave the man of the hour his full attention, and stopped working his jaw.)

Addressing the priests of the archdiocese, Archbishop Dolan said, "You are the apple of my eye. You mean everything to me." He cited great priestly heroes of the archdiocese's history, like the Rev. Felix Varela, Archbishop Fulton J. Sheen and Cardinal Avery Dulles. He also cited notable lay New Yorkers, like the freed Haitian slave Pierre Toussaint, renowned for his charity, the activist Dorothy Day, and Gov. Alfred E. Smith.

Archbishop Dolan cited former Mayor Edward I. Koch in saying that "the Catholic Church in this city is the glue that keeps the community together."

In his first mention of social issues, the newly installed archbishop drew sustained applause and a standing ovation — but not from everyone — when he spoke of the need to protect "the sanctity of human life," specifically "the tiny baby in the womb." He quoted a predecessor, Cardinal Terence Cooke, as saying that human life is no less worthy just because it is tiny, weak or sick.

"See, what we're saying is that everybody in this great mega-community is a somebody, with an extraordinary destiny," he said, continuing, "That's why the church reaches out to the unborn, the suffering, the poor, our elders, the physically or emotionally challenged, and those caught in the web of addiction."

Yet Archbishop Dolan reached widely, citing the Jewish community and its ongoing celebration of Passover, and praising the firefighters, police officers and rescue workers who served the city after 9/11, offering an "ecumenical, interreligious, civic testimony to the worth of every human person."

The church lacks "power and clout, property and prestige," he said. "Forget it. Those days are gone, if they ever existed at all." Instead, Archbishop Dolan spoke of Jesus Christ's simple message of faith, charity and love. "The church really has no treasure, but her faith in the Lord."

The homily took on some of the biggest demons stalking the church, as the archbishop addressed the priest sex abuse scandals that have drained the church of millions of dollars and eroded much of its integrity. As he called the scandals "horrible" and a "crime," some congregants looked at their hands, folded in laps.

As if taking a page from a local guidebook, Archbishop Dolan urged parishioners "to turn the Staten Island Expressway, Fifth Avenue, Madison Avenue, Broadway, the F.D.R., the Major Deegan and the New York State Thruway into the road to Emmaus" — where, according to Christian belief, Jesus appeared to two of his followers after his resurrection.

Various people ascended the altar to read the Prayer of the Faithful, in various languages and interspersed by a few lines of song, first in Irish Gaelic, then in Italian, Polish, French, Tagalog, Croatian and, finally, Igbo, which is spoken in Nigeria. As the altar and Eucharistic gifts were being prepared, the tenor Ronan Tynan, who has performed "God Bless America" at Yankee Stadium, sung "Ave Maria."

The Eucharist was blessed, and the cathedral filled with the murmurings of hundreds of priests as they repeated the holy words, converting, in Catholic belief, the communion bread into Christ's body.

On his way out of the cathedral, Archbishop Dolan marched around the altar, grinning and rosy-cheeked, with crozier in hand, waving to the hundreds of people sitting around and behind it. The clapped and waved back. As the archbishop left the altar, the entire congregation rose and applauded.

The Mass, lasting just over two hours, ended around 4:20 p.m., with the recessional hymn "Christ the Lord is Risen Today," arranged by Richard Proulx, followed by Handel's "Messiah." The archbishop left St. Patrick's at 4:28 p.m. and greeted well-wishers on Fifth Avenue, which had been closed to traffic.

Crowds were small, at least in areas diagonally across from St Patrick's Cathedral. Protesters were not to be seen. There was a small group of folks, who were asking for their parishes to reopen, but they were polite and even giddy when Archbishop Dolan waved.

There were larger crowds of teenage tourists weaving their way down Fifth Avenue following a guide with flag held aloft, actually.

Archbishop Dolan came out to scattered light applause, past an honor guard of Knights of Columbus, who flanked the steps, their ceremonial swords upright to their faces.

He went to 51st Street, waved, then to 50th, and waved again. He stopped to talk with people who had just left the Cathedral, then proceeded down to Madison Avenue.

The Start of the Mass

After a grand procession into the cathedral — culminating in the Easter hymn "Jesus Christ Is Risen Today," arranged by John Ferguson — Cardinal Egan began the Mass at 2:18 p.m.

Cardinal Egan reminded the congregation that Pope Benedict XVI had celebrated Mass at the cathedral last year. As then, the archdiocese celebrates the appointment of a new archbishop "with great joy and with genuine delight," Cardinal Egan said.

Archbishop Pietro Sambi, the apostolic nuncio or papal ambassador to the United States, read a text praising the cathedral, the New York archdiocese and its "new shepherd."

"The unity of a Gothic cathedral is not that static unity of a classical temple, but a unity borne of the dynamic tension of diverse forces, which impel the architecture upward, pointing it to heaven," Archbishop Sambi said, quoting the pope's homily at the cathedral last year.

Archbishop Sambi continued:

Your Excellency, Archbishop Dolan, today the people of God in this vast metropolitan see rejoice as you are solemnly installed as the 10th archbishop of New York. Indeed, we offer you our heartfelt congratulations and prayerful best wishes. We are confident that you will fulfill, you will faithfully teach, sanctify and govern in the name of the crucified risen Lord, Jesus Christ, and that in so doing, you will serve well your priests, deacons, religious and faithful. Standing with them, in their joys and in their hopes, in their griefs and in their anxieties, helping them to see all things with the eyes of faith.

Archbishop Sambi also thanked Cardinal Egan "for his years of faithful service to this metropolitan church." The cathedral erupted into applause and a standing ovation. Then the papal representative read aloud the Feb. 23 letter appointing Archbishop Dolan, the archbishop of Milwaukee since 2002, to lead the New York diocese, which was founded in 1808.

After the reading of the letter, there was silence as Msgr. William Belford, chancellor of the archdiocese, displayed it to those assembled and then stood over it, signing it with a pen and notarized it with what appeared to be an ordinary, office-style stamp-maker.

Again, St. Patrick's burst into applause.

Prelude to the Mass

The Mass of Installation — at which the start of Archbishop Dolan's service as the leader of the archdiocese was to be formally certified with a stamp on the pope's appointment letter — followed a prayer service on Tuesday evening and a news conference on Wednesday morning.

Well before the Mass of Installation, scheduled for 2 p.m., the scene outside the cathedral on Fifth Avenue was one of Christian pomp and ritual.

Police cars lined up along Madison Avenue, outside of the archbishop's residence behind the cathedral. Barricades were set up around sidewalks across the street.

In the courtyard of the New York Palace Hotel, priests arrived, dressed in black, before ducking into a side room and emerging in their white vestments, many adorned with a red cross on front and back.

"It's like a new boss coming in," said Rosario Tirella, a deacon. "I'm looking forward to meeting him. He comes across as a nice individual. It's a good day for the archdiocese."

Members of the Knights of Columbus milled among them, dressed with flowing capes, satin sashes, medals and plumed hats. At around 12:45, someone on a megaphone told the clergy to fall into formation, lining up in two rows.

At 1 p.m., the clergy filed out onto 51st Street, a line of men dressed in white, gathering in wait outside the Cathedral.

The Archbishop's Biggest Fan?

Those waiting inside the fenced off observation areas on Fifth Avenue blended into the throngs of tourists once the bronze doors to St. Patrick's were closed.

Most looked like any other visitor to Rockefeller Center.

Except one.

Joseph Piazza ("like the ballplayer!") was hard to miss, being a vision in red white and blue. Wearing a blue blazer over white pants, with red socks hitched over then pants to his knees. He wore equally colorful patriotic shoes, each adorned with a tiny spangly flag on the tow and "Never Forget" emblazoned over the instep. A portrait of Archbishop Dolan, ringed by religious stickers, hung from his neck.

"You want to see the whole getup?" he asked, before turning a switch on his goggles, which activated tiny orange lights and wipers.

"I usually go to the World Trade Center three or four times a week," said Mr. Piazza, a retired Off-Track Betting manager. "The tourists love it. They take my picture."

Today he came to Fifth Avenue to get a look at the new guy himself. After all, Archbishop Dolan is his archbishop, too.

"I'm from Our Lady of Pity in Staten Island," he said. "Like that drunk Fossella."

From what little he knows about Archbishop Dolan, he's optimistic.

"I read about him, but I got to see if I like him or not, make my own opinion," he said. "I think he's going to be okay. He's got to be more about people. Egan was all business.

"I'm going to watch what he does," he added. "He's got to get rid of too many gays. He's against abortion, me too. I like that. And I hope he hates the Yankees."

Outside the Cathedral

In the half-hour before the Mass, Archbishop Dolan stood on the sidewalk outside the cathedral, greeting parishioners, white-robed clergy and officials as they entered. Though he wore the bishop's mitre, he struck a friendly, low-key, even humble tone, shaking hand after hand and telling at least one well-wisher, "I need you."

As the gathered clergy filed into the cathedral, whoops and yells went up from several dozen spectators when Archbishop Dolan stopped and waved. He had gone over to shake the hands of police at the barricades, but the onlookers waiting with cameras, flags and signs, cheered him heartily from across the street.

"Look! He's waving!" said Zaida Rodriguez.

"Whooo-hoo!" Said her friend, Patricia Rodriguez.

"That's more than I expected," Zaida said. "Lucky us."

Indeed, luck has been in short supply for these women from East Harlem, whose parish, Our Lady Queen of Angels, was closed by Cardinal Egan two years ago. They continue to hold prayer services outside the shuttered church every Sunday at 10:30. They also pray regularly with the nuns who live in the adjoining convent.

They now hope that a new archbishop will engage in a dialogue with them. They'd like to see the church reopen, but for now, dialog would be a welcome change, they said.

"Now we have renewed hope," Patricia said. "It was dwindling before. But this new archbishop looks like someone who hears the people. We're hoping that minimally he'll be open to dialogue. Up to now, none of us have had a say, and that's scary."

She had been joined by several former parishioners from Our Lady of Vilnius, which was closed when its pastor went to meet with the cardinal. They held sings that were respectful, even welcoming.

Patricia help up a sign that said, "Our Lady Queen of Angels in East Harlem Welcomes Our New Archbishop Timothy Dolan."

"We wanted to show him we still exist," Patricia said. "We're still a community of faith."

Francis Piderit of the New York chapter of Voice of the Faithful, was there to support the advocates seeking to reopen their parishes. He said that especially in East Harlem, Latino Catholics wanted to be heard.

"I think Archbishop Dolan could send a powerful message to the Latino community of New York if he just sat down and talked to these parishioners," he said. "They have paid the price. But we believe we still have a vibrant faith community, and we should have a reason to live."

Street Scenes

Small clusters of people stood at the barricades at the intersection of Madison Avenue and 50th Street. Priests continued to arrive, late, hurriedly slipping into their vestments as they crossed Madison.

"You're late father, you're late," said a white-haired woman with a brogue. "Hurry! Oh, here comes another fellow. Watch it!"

A line of men in bishop's miters snaked down Madison, where they passed the time chatting in the brisk air.

"Are those bishops?" asked Noreen Novack, who was on her lunch break. She had come over from down the block, where she worked in check processing at Mutual of America. She looked forward to seeing a change in the church's leadership. She was still unhappy with the fact the Cardinal Egan left New York soon after 9/11.

"He should have been here for the people, when everybody was dying," she said. "He should've come back from Rome. But he didn't."

Ms. Novack, who belongs to St. Mathias's parish in Ridgewood, Queens, was impressed by Archbishop Dolan.

"He strikes me as open and friendly," she said. "I hope he's more open with the people."

She also hopes the church can do something to improve the state of Catholic schools.

"They're always asking money for donations, but they have so much in Rome," she said. "They have all that art and stuff why not sell some of it to keep the schools open. I hope Dolan can do something to help the schools and get more priests."

And while he's at it, she had a personal request. "My sister's a nun, and the nuns should be treated better," she said of her sister, who belongs the Sisters of St. Dominic. "She doesn't have anybody coming to the house to cook and clean."

'The Bishop Dude'

Three teenagers were deep in conversation as they approached the police barricades at 50th and Fifth.

"What's up with this?" asked a boy.

A girl in the group looked over and her face lighted up with a flash of semirecognition.

"It's for that bishop dude!" she said. "The bishop dude!"

Add one more title to the archbishop of New York.

Before the Mass

Inside the cathedral, the church had begun filling with men in dark suits and women in their Sunday finery, wearing glittering broaches and a few daintily brimmed hats.

A few attendees appeared to have taken advantage of the retail offerings along Fifth Avenue. One woman, her hair cut to a tidy bob and outfitted in a snug eggplant colored skirt and blazer, swept in to the seating area behind the altar carrying large shopping bags from Burberry and Lord and Taylor.

At about 1:25 p.m., before the service began, Mayor Michael R. Bloomberg chatted briefly with Archbishop Dolan's mother, a gray-haired woman in a pink suit in a front pew of the cathedral. Then he walked across an aisle and had a quick, all-smiles exchange with two city officials seated next to each other — the city comptroller, William C. Thompson Jr., and the City Council speaker, Christine C. Quinn.

Other dignitaries included former Mayor Edward I. Koch, Police Commissioner Raymond W. Kelly and Fire Commissioner Nicholas Scoppetta.