Paraguayan President, Former Roman Catholic Bishop Admits to Love Child

By Mariela Rosario
Latina
April 15, 2009

http://latina.com/lifestyle/news-politics/paraguayan-president-former-roman-catholic-bishop-admits-love-child

We think the political scandals in America are juicy, but nothing compares to the bombshell that Paraguayan President Fernando Lugo recently dropped on his public! It seems that the recently elected head of state, who was previously a bishop in the Roman Catholic church, had a steamy love affair with 26-year-old Viviana Carrillo which resulted in a 1-year-old bouncing baby boy.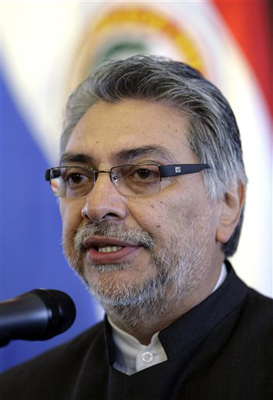 Fernando Lugo, at the press conference where he made the announcement on April 12th.
Photo by


The leftist leaning leader was the reigning bishop of the San Pedro province of Paraguay up until 2004, when he resigned and announced his plan to run for president of the South American country. At the time, President Lugo received permission directly from the Pope to leave the priesthood and campaign for the highest political office in Paraguay. But the President was still registered as a bishop until last year, when Pope Benedict XVI decided to relieve Lugo from the vow of chastity that all Roman Catholic priests must take.

The 58-year-old political leader freely admitted to the romance with the woman almost 30 years his junior saying, "I assume all responsibilities having to do with the fact that I had a relationship with (the mother of the child), and I recognize paternity." But he refused to comment further on the matter, expressing concerns about the privacy of the baby boy.