Priest Charged with "Filming" Boys at Blacksmiths Carnival

By Dan Proudman
The Herald
April 17, 2009

http://www.theherald.com.au/news/local/news/general/priest-charged-with-filming-boys-at-blacksmiths-carnival/1488614.aspx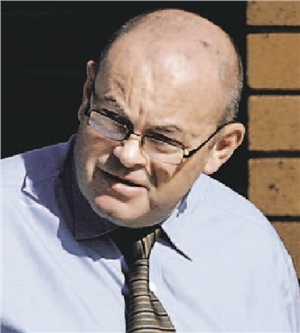 NO PLEA: Priest John Houston leaving the court yesterday.



A VISITING Catholic priest stands accused of filming boys showering during a surf lifesaving carnival at Blacksmiths.

John Charles Houston, 54, has been charged with two counts of filming a person in a private act without consent to obtain sexual arousal and one charge each of filming a person's private parts without consent and filming a person in a private act without consent to obtain sexual arousal (aggravated).

The aggravated charge relates to a 14-year-old boy and carries a maximum jail term of five years.

Another charge relates to an "unknown adolescent male".

Each of the charges are alleged to have occurred in the shower cubicles at Blacksmiths during the NSW Surf Life Saving Championships on March 1.

Houston faced Belmont Local Court yesterday after being charged by Lake Macquarie detectives on March 26 following an investigation.

He has not been required to enter a plea.

Following questions from The Herald, Maitland-Newcastle Bishop Michael Malone issued a short statement to the diocesan community about the charges.

"Father Houston came to the diocese in September 2008 to minister to the Redemptoristine Community, a small enclosed group of religious women, in Bolwarra Heights," Bishop Malone's statement said.

"As he is not a priest of this diocese I am unable to provide you with any further information."

Houston's address on court papers was listed as Monastery of the Most Holy Redeemer, Maitland Vale Road, Bolwarra Heights.

A diocesan spokeswoman said she was not able to comment on whether Houston remained living at Bolwarra Heights or whether he was still in active ministry because it was a criminal matter.

Houston, originally from Victoria, moved from Melbourne to Bolwarra last year and was in active ministry at the time of the alleged offences.

His bail was yesterday continued and he will reappear on June 11.