Vatican Picks Blair to Direct Inquiry

By David Yonke
Toledo Blade
April 18, 2009

http://toledoblade.com/apps/pbcs.dll/article?AID=/20090418/NEWS10/904180352/-1/NEWS02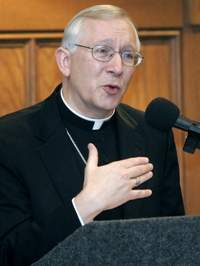 Bishop Leonard Blair of the Toledo Diocese has been chosen to lead an investigation of the nation's largest organization of nuns.



Nuns review slated over Catholic doctrine

The Vatican has picked Bishop Leonard Blair of Toledo to lead a doctrinal investigation into the nation's largest organization of nuns.

The inquiry will look at adherence to Catholic doctrine by the Leadership Conference of Women Religious, an organization based in Silver Springs, Md., with 1,500 nuns in leadership positions representing 95 percent of the nation's 67,000 Catholic sisters.

Virtually all nuns' communities in northwest Ohio and southeast Michigan belong to the group.

Bishop Blair is a member of the U.S. Conference of Catholic Bishops' committee on doctrine and helped conduct evaluations of American seminaries for the Vatican in 2005 and 2006.

The Toledo diocese issued a statement yesterday on behalf of Bishop Blair, who had just returned from Rome.

"Bishop Blair has been asked by the Congregation for the Doctrine of the Faith to conduct a doctrinal assessment, which will have as its principal purpose to review the work of the LCWR in supporting its membership as communities of faith and witness to Christ in today's church, and to offer any useful assistance. Bishop Blair has been in contact with the leadership of the LCWR, and has nothing further to add at this time."

Some Vatican observers said the selection of the bishop, 60, shows he is highly regarded in Rome.

"In the eyes of many Vatican officials, he is a promising church leader who has demonstrated competence in other affairs," said Rick Gaillardetz, professor of Catholic studies at the University of Toledo.

The Rev. Thomas Reese of the Woodstock Theological Center at Georgetown University said the appointment "shows obviously that the Vatican has great confidence in him by putting him in charge of this very delicate investigation."

Sister Annmarie Sanders, director of communications for the nuns' organization, said there would be no comment beyond a statement the group released earlier this week confirming the Vatican's "decision to conduct a doctrinal assessment of LCWR's activities and initiatives."

The statement said the nuns had no details on the process or the time line. The group learned of the inquiry in a letter from Cardinal William Levada, prefect of the Congregation of the Doctrine of the Faith.

The National Catholic Reporter, an independent U.S. Catholic newspaper, reported Cardinal Levada cited three areas of concern: promoting the ordination of women, salvation through Christ alone, and "the problem of homosexuality."

Father Reese said the nuns' group does not have any juridical authority over religious communities but holds conferences at which speakers may raise arguments contrary to doctrine.

"Some of the speakers may say things that the Vatican doesn't like. Now, every speaker is not going to have the endorsement or imprimatur of the LCWR. They are simply putting on a conference that has a lot of different people with a lot of different views making presentations. What it sounds like is that the Vatican wants these folks censored," Father Reese said.

Similarly, Mr. Gaillardetz said church officials in Rome "may be concerned that a particular conference has at least encouraged more open debate on certain issues that the Vatican prefers to be closed."

He said, however, the character of church inquiries can vary widely. "Those who are prone to conspiracy theories see this as 21st-century witch hunts, while the Vatican insists these kinds of things are just examples of its responsibility to show vigilance over the life of the church," he said.

Sister Christine Schenk, of the Sisters of St. Joseph religious order and executive director of the Catholic reform group FutureChurch, said she is "very puzzled" by reported concerns over adherence to doctrine.

"I have been at every LCWR conference in the last 15 years and I don't recall anybody speaking about women's ordination or addressing those other issues. It's been my experience that they're quite careful about that," Sister Christine said.

Among local religious communities with LCWR membership are the Sisters of Notre Dame, the Sylvania and Tiffin Franciscans, and the Ursuline Sisters. Sister Annmarie said there are 14 women's religious orders in Ohio and six in Michigan with LCWR membership.

Bishop Blair has been bishop of the 19-county Toledo diocese since 2003.

His appointment to head the investigation was opposed by the national Survivors Network of those Abused by Priests. "It rubs salt into already deep and still-fresh wounds, of both victims and Catholics, each time the Pope gives more responsibility to a bishop with a terrible track record on child sex abuse and cover-up," said Barbara Dorris, SNAP's outreach director.

The nuns' group said that, despite lacking details on the inquiry, the "LCWR faces this process with confidence, believing that the conference has remained faithful to its mission of service to leaders of congregations of women religious as they seek to further the mission of Christ in today's world."

LCWR officials are set to meet with Cardinal Levada on Wednesday for their regular annual consultation.

A separate apostolic visitation of U.S. women's religious institutes was ordered by the Vatican late last year. That project will look into the quality of life and why membership has been declining.

Contact David Yonke at: dyonke@theblade.com or 419-724-6154.