Second Paraguay Love-Child Claim

By Candace Piette
BBC News
April 20, 2009

http://news.bbc.co.uk/2/hi/americas/8009244.stm

Paraguayan president Fernando Lugo has received a second demand to recognise the paternity of a child.

President Lugo, who is a former bishop, shocked the country last week when he acknowledged a two-year-old boy as his son.

The Pope released him from his vows of chastity only last July, two years after he renounced the priesthood.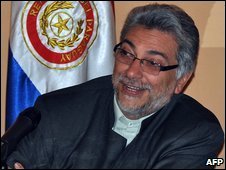 Mr Lugo was sworn in as Paraguay's president last August



The 27-year-old woman making the latest demand says her six-year-old is the son of Mr Lugo.

In a press conference, the woman said her relationship with the then Bishop Lugo had begun in 2001, when she had gone to him for help with trying to contact the father of her first child.

The woman, from a very poor background, said she had wanted help with getting financial support for her child.

She said Mr Lugo had sent her money until the boy was two years old, but the money had stopped coming.

She also said he had asked her to keep quiet about the issue during last year's election campaign, which he went on to win.

In a statement, the president's office said he was prepared to act within the bounds of truth, and that he had established a special team to deal with the legal cases that might emerge around this subject.

This is not the first time that Paraguayans have heard allegations of paternity suits against their president.

The opposition Colorado party raised the issue several times during the elections.