Priest's Bail Increased; Supporters Appear in Court
Molestation Allegations Brought by 16-Year-Old Boy

By Virginia Hennessey
Monterey Herald
April 21, 2009

http://www.montereyherald.com/local/ci_12189619?nclick_check=1

Dozens turned out in support of the Rev. Antonio Cortes as the shackled priest made his first appearance on child molestation charges Monday.

And throughout the day even more people gathered for vigils outside St. Mary of the Nativity Church in East Salinas, where Cortes has served as pastor since June 2007. Some women cried, others vowed to fast until the priest's name is cleared.

Meanwhile, prosecutor Rolando Mazariego said Cortes' bail was increased to $750,000 because of the "danger to the community." And, in a statement delivered during Sunday Mass, Bishop Richard Garcia asked parishioners to cooperate with the investigation by Salinas police.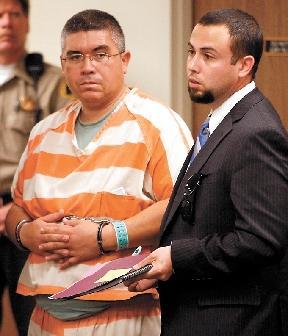 Antonio Cortes appears in court with his attorney J. Hernandez on Monday.
Photo by Vern Fisher


Cortes, 41, was formally charged early Monday with one felony count of sodomy, five misdemeanor counts each of child molestation and furnishing alcohol to a minor and misdemeanor counts of child cruelty and performing an immoral act before a child.

According to Judge Adrienne Grover, the charges stem from an April 14 incident involving a 16-year-old boy who was identified by his first name in court. It is The Herald's policy not to identify alleged victims of sexual assault.

Agreement on delay

Wearing orange and white-striped jail clothing and shackled at the ankles and wrists, the bespectacled Cortes was represented in court Monday by Salinas attorneys Miguel and J. Hernandez. J. Hernandez told Grover he and his father had not yet been retained in the case and asked that Cortes' arraignment be put off until 1:30p.m. Wednesday.

Speaking through an interpreter, Cortes agreed to the delay, saying he understood it meant his preliminary hearing would not yet be scheduled.

The bail amount was escalated by Judge Marla Anderson prior to his arrest Friday. Mazariego said Anderson increased the bail from the standard amount at the request of Salinas police.

"Judge Anderson heard the facts of the case (and) based on the danger presented to the community," attached the escalated bail to his arrest warrant, Mazariego said.

At the prosecutor's request, Grover ordered Cortes to have no contact with the boy should he post bail.

Miguel Hernandez said he was not sure who would pay for the priest's defense.

It will not be the Diocese of Monterey, said spokesman Warren Hoy. The diocese will have no role in paying for Cortes' bail or defense, he said.

He said Bishop Garcia made a "pastoral visit" to Cortes in the Monterey County Jail over the weekend.

Several women cried as they left the courtroom Monday. More than two dozen people milled around the courthouse after the hearing, many of them people in their 20s who said Cortes had played a positive and influential role in their lives since they were teenagers.

"He has helped so many people," said Marina Acosta. "He was always talking straight out to kids about the gangs and how that is harming the community.

"We are praying for justice," she said, adding that parishioners are also praying for Cortes' accuser, who has reportedly known the priest since he was 14.

Belief in Cortes

Several of Cortes' supporters suggested the teenager could be leveling false accusations for financial motives.

"People are desperate when the economy is bad," said Carlos Casapria.

Casapria said he'd known Cortes since he was a teenager and served for three years as youth coordinator of the church. He said he believes Cortes is innocent.

"When you know a person, you have a feeling," he said. "This is a good person." Hoy said the diocese is remaining neutral until the investigation and prosecution are complete.

For the time being, Cortes has been suspended from his priestly duties. The Rev. Jose Albert Vazquez, the diocese' director of vocations, will be acting pastor at St. Mary.

"Father Cortes will not return to St. Mary until and unless the allegations against him are completely disproven, (not just dropped)," Hoy said, adding that if Cortes posts bail, he will be assigned somewhere in the county where he'll have no contact with children.

Once the criminal investigation and prosecution are completed, Hoy said, the diocese will conduct its own investigation to determine if church law has been broken.

If the charges are substantiated, he said, Cortes "will never go back to being a priest."

Cortes served as associate pastor of Sacred Heart Church in Salinas from 1996 to 2002, when he was transferred as associate pastor to St. Theodore's Catholic Church in Gonzales. In 2003, he became pastor at Holy Trinity Church in Greenfield.

His supporters said Monday that many Salinas faithful followed Cortes to South County during those years. He was moved back to Salinas as pastor of St. Mary in June 2007.

Hoy said this is the first time that anyone has leveled allegations of sexual misconduct against the priest.

Virginia Hennessey can be reached at 753-6751 or vhennessey@montereyherald.com