Churches Check Backgrounds in Light of Cantu Case

By Ron Jones
CBS 13
April 21, 2009

http://cbs13.com/local/church.background.checks.2.990900.html

A Sunday school teacher has been charged in the kidnapping, rape and murder of an eight-year-old girl and now other local churches are working to make sure that their employees and volunteers are screened, hoping to prevent child abuse.

Harvest Church in Elk Grove is taking their duty to protect children in Sunday school seriously. Children's Pastor Joyce Baergen says she does not want to open the door to predators.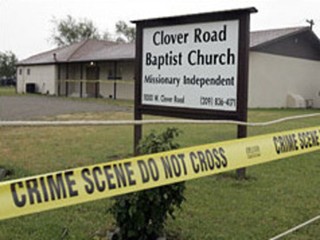 Investigators sealed off the Tracy church after Sandra Cantu was found dead.
Photo by AP


"Everyone who goes beyond this point in here is an approved volunteer," Joyce said.

The security of children in places of worship is firmly in the spotlight after Melissa Huckaby, a Tracy Sunday school teacher, was accused of sexually abusing and killing Sandra Cantu, but some say that the threat of abuse is more common than you think.

According to ProtectMyMinistry.com, there are 400,000 registered sex offenders in America's churches, and one church out of 25 reports allegations of sexual abuse in any given year. Predators typically abuse three to six children annually before they are caught, the website states.

At the Harvest Church, volunteers are screened heavily before they are put in positions of responsibility.

"We have an application process and live scan," Joyce said. "We do reference checks as part of that process."

Many churches have a similar process, but in many places of worship, it's often difficult to find quality, committed volunteers without a sketchy past, but Pastor Joyce says the background checks are worth it.

"I think any public institution, whether it's a church, a school… any institution wanting to convey a sense of excellence in everything that they do and having a security and safety process for the children, gives that sense to the people who come in that they've thought through all of those steps," she said.

Joyce says congregation members should ask church, synagogue and mosque leaders what they're doing to keep your kids safe.