Lawsuit Claims Teen Drugged, Molested by Priest 30 Years Ago
Plaintiff Who Himself Was Once a Priest Sues LA Habra Parish

By Michael Mello
Orange County Register
April 21, 2009

http://www.ocregister.com/articles/pillon-rodriguez-diocese-2371101-lawsuit-priest

A man who was once a priest himself has sued the Diocese of Orange, claiming he suffered sexual abuse when he was younger at the hands of a priest in his La Habra parish.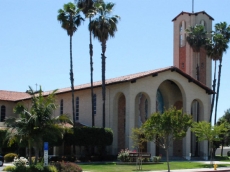 A man who was once a priest himself has sued the Diocese of Orange, claiming he suffered sexual abuse when he was younger at the hands of Father Gordon Pillon in his parish, Our Lady of Guadalupe Church in La Habra.
Photo by Lou Ponsi


The lawsuit charges that the priest harmed Ben M. Rodriguez psychologically, resulting in physical harm later in life, and that the diocese failed to protect Rodriguez from that harm. The lawsuit seeks an undetermined amount of money for treatment and for wages lost and diminished earning capacity.

The lawsuit doesn't name the man, but Rodriguez's attorney, Joseph C. George, identified the priest as Gordon J. Pillon.

Officials at the parish, Our Lady of Guadalupe, referred inquiries to the diocese.

Diocese spokesman, Ryan Lilyengren said the diocese has not yet been served with the complaint, and generally does not comment on litigation.

Now 45, Rodriguez has come forward 30 years after he said the abuse took place.

"He felt strong enough to go public and speak out to other potential victims to encourage (them) to come forward," George, a Sacramento attorney.

The abuse started when Rodriguez was 15, according to the complaint. At that time, Rodriguez's parents were getting a divorce, so he started attending a youth group at the church. There, he got to know Pillon, who he claims had him stay overnight at his apartment.

"Pillon somehow influenced him to leave his family and placed him in four different homes of parishoners," George said.

The lawsuit claims Pillon gave Rodriguez muscle relaxants and sleeping pills. The molestation took place "on hundreds of occasions," according to the lawsuit.

"He gave me drugs and alcohol and I remained silent about it my entire life until recently," Rodriguez said.

When Rodriguez turned 18, he joined the seminary. He was ordained as a priest in the Diocese of Peoria, Ill., in 1991.

"He idolized Pillon," George said. "After he was ordained, he spent 16 years in the priesthood in the same diocese – Peoria – as Pillon. He left because there was a blowup with Pillon."

Pillon was defrocked in 2006 and is now a professor at the University of Northern Virginia's campus in Prague, Czech Republic.

In 2006, a spokeswoman for the Diocese of Peoria said Bishop Daniel Jenky asked Pillon to step down after allegations surfaced that Pillon molested a minor 25 years before in Orange County.