Paraguayan President, Former Bishop, Accused of " Raping a Minor"
A Paraguayan Leading Opposition Senator Filed a " Ravish Claim" before the Country's Prosecution Office Involving President Fernando Lugo and Viviana Carrillo Who Was a Minor When Allegedly She Had Sexual Relations with the Then Bishop of San Pedro. Lugo Publicly Admitted Last Week Having Fathered a Child, Now Two Year Old and Named Fernando, with Viviana.

MercoPress
April 21, 2009

http://en.mercopress.com/2009/04/21/paraguayan-president-former-bishop-accused-of-raping-a-minor

Senator Lilian Samaniego said she was promoting the legal action from her "woman gender" condition and was looking forward to a full investigation into the issue.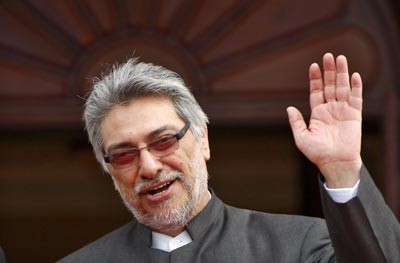 Blessed be my children



"As a woman we can't let this go by. Our community is demanding an answer and Fernando Lugo has the chance to tell us what happened regarding the events which are attributed to him", said Senator Samaniego.

Meantime a second woman who claims President Lugo is the father of her seven year old child, rejected the proposal for a private clinic DNA test from Lugo's solicitor and anticipated she will present a paternity claim.

"Tomorrow I will file the claim, as soon as I find a solicitor", said Benigna Leguizamón following a meeting with solicitor Marcos Fariña in one of Asuncion's main hotels.

Fariña said President Lugo is ready to go to court. This would then become the second paternity case for the president in two weeks.

Meantime Monsignor Rogelio Livieres, interviewed in television said the Paraguayan Catholic Church was well aware of the possible paternity cases of current president Lugo, but the church somehow "covered up the issue".

According to Bishop Livieres the previous Papal nuncio, Monsignor Antonio Lucibello, between 2002 and 2004, received written claims from several women saying the father of their children was then San Pedro bishop, Fernando Lugo.

At the time Lugo was called to Asunción and "he was seriously reprimanded, but he's not a person to face things or accept them, 'it's possible, could be', he admitted but never denied the claims and when asked to talk about them he simply walked away".

As to how many women were involved, Bishop Vivieres said "several", and none of them Viviana Carrillo, the only case so far admitted by President Lugo. "The Church has their names but obviously they will not be revealed".

Lugo's misconduct is no mystery, "it was well known, vast sectors of the community knew about it, obviously in San Pedro where he was the bishop. The Church failed in not having acted more sternly with him. It was somehow a cover up", said Vivieres.

According to the Paraguayan press Bishop Vivieres is no fan of his former fellow peer and was known for having criticized Lugo's character and deeds.

President Lugo who this week celebrated the first anniversary of his electoral victory, during the campaign was repeatedly accused by the morally eroded incumbent party of having fathered 17 children.

He never denied the accusations, but would simply reply, "where are the facts and evidence; go to court with them". It's happening.