Huckaby Tied to January Missing Girl Report

By Jennifer Wadsworth
Tracy Press
April 21, 2009

http://www.tracypress.com/pages/full_story?page_label=results_content&id=2353504- Huckaby+tied+to+January+missing+girl+report&widget=push&article-Huckaby%20tied%20to %20January%20missing%20girl%20report%20=&open=&

Melissa Chantel Huckaby, 28, is tied to a report that someone in January took a 7-year-old girl to a park for four hours and brought her back high on muscle relaxers.

The incident was reported on January 17 by a family in the Orchard Estates Mobile Home Park. Huckaby lived in the same complex, also where 8-year-old Sandra Cantu lived before police found her dead body on April 10. Police arrested Huckaby four days later on suspicion on kidnapping, raping and killing Sandra.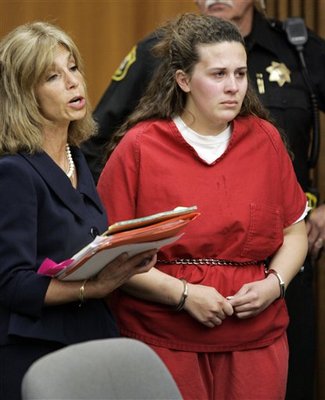 Melissa Huckaby, 28, center, listens in a Stockton courtroom to public defender Ellen Schwarzenberg during her arraignment today.
Photo by Paul Sakuma


The January report alleges that someone took a 45-pound blue-eyed dark-haired girl to a park. The woman and the child were gone for four hours, from about 1:30 to after 5 p.m., according to the police log. The woman who took the girl drove a purple Kia Sportage, according to the report.

Police towed a purple Kia Sportage registered to Huckaby the day after farmworkers found Sandra's body inside a suitcase dumped in a dairy lagoon.

The police log also noted an officer said the girl might be with a mobile home park resident's "granddaughter." Huckaby until her arrest lived with her grandparents, Clifford Lane and Connie Lawless.

When the woman — apparently Huckaby — returned the girl, the family took her to the hospital. A doctor found benzodiazepines — a muscle relaxant — in the girl's bloodstream, the police log noted.

Police logs say the girl's mother had alcohol on her breath and carried around some type of drug. Police dismissed the incident because of the mother's drug and alcohol problem, said a friend of the family's who asked not to be identified because the FBI asked the family not to talk about the case.

Tracy police Sgt. Tony Sheneman said he can say nothing about the reported abduction in January because it's part of the ongoing murder investigation.

• Contact Tracy Press reporter Jennifer Wadsworth at 830-4225 or jwadsworth@tracypress.com.

Editor's note: A reference to a Huckaby interview with a news station was removed from this story.