Third Paraguay Love-Child Claim

BBC News
April 22, 2009

http://news.bbc.co.uk/2/hi/americas/8013165.stm

A third woman has claimed that her child was fathered by Paraguayan President Fernando Lugo.

The claim comes just days after a woman said Mr Lugo, who is a former bishop, was the father of her six-year-old boy.

Two weeks ago Mr Lugo said he fathered a child but has not acknowledged paternity in the more recent cases.

The Pope released the Paraguayan president last July from his vows of chastity, two years after Mr Lugo renounced the priesthood.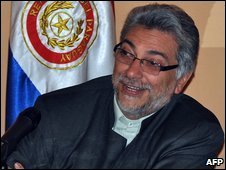 Mr Lugo was sworn in as Paraguay's president last August



Macho society

The third woman claimed she too had a close relationship with President Lugo. She said the boy he fathered was now 14 months old.

President Lugo found himself in a delicate situation two weeks ago, when he had to backtrack on previous denials and admit he was the father of a child who will be two next month.

Although he has not commented on the latest allegations, Mr Lugo has cancelled what was regarded as an important trip to Washington due to start on Friday.

A Paraguayan Roman Catholic bishop, Rogelio Livieres, has called for Mr Lugo's resignation, and opposition politicians have seized on the scandal, as the president ran on a campaign of honesty and returning power to the people.

While some see the president's popularity wavering, the BBC's Gary Duffy says that in the deeply macho society of Paraguay the controversy so far has caused Mr Lugo only limited damage.