Gag Order in Huckaby Case Extends to O.C. Arson Investigation
Local Officers Told to Keep Quiet about Arson Investigation Involving Murder Suspect

By Sarah Tully
Orange County Register
April 22, 2009

http://www.ocregister.com/articles/huckaby-arson-police-2372073-la-palma

A gag order is preventing Orange County law enforcement officials from releasing information about arson cases linked to Melissa Huckaby, who is accused of slaying a girl in Northern California.

A San Joaquin County Superior Court judge on Tuesday issued a gag order, instructing all lawyers, authorities and witnesses from speaking about the Huckaby case. The former Orange County resident is accused of kidnapping, raping and killing 8-year-old Sandra Cantu in Tracy.

Also on Tuesday, a Tracy Police Department lieutenant told La Palma police officers about the gag order and instructed them to keep quiet about Huckaby, said Capt. Jim Enright of La Palma Police Department. Orange County Fire Authority, which covers La Palma, is also following the gag order, said Capt. Marc Stone, a fire spokesman.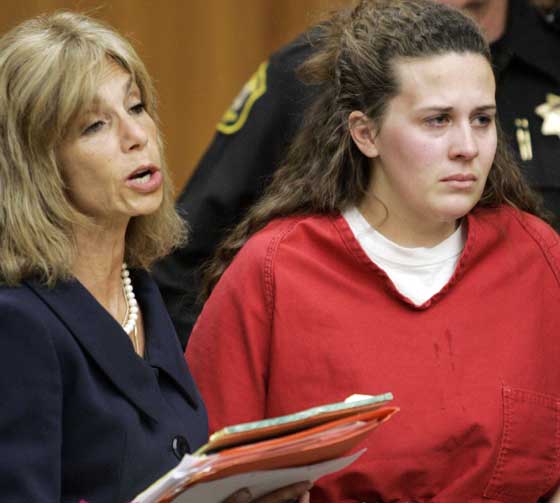 Melissa Huckaby, 28, in a court appearance in Stockton, Ca.
Photo by AP


Huckaby is considered a "person of interest" in two arson fires that were set eight days apart at the La Palma house where Huckaby lived in 2007. Although she was questioned, Huckaby was never charged in the crimes.

Tracy police contacted La Palma police shortly before Huckaby's arrest to find out about any issues she had in La Palma, Enright said. Since then, La Palma officers have been providing information to Tracy police about Huckaby.

The arson incidents now are considered part of the murder investigation.

Cypress Police Department is also cooperating with Tracy police, said Sgt. Tom Bruce, the department's spokesman, but he declined to discuss any possible cases. Huckaby used to live in Cypress, where her family has a home.

"Right now, the gag order extends to all parties in the (Huckaby case). Our investigators are taking a look at all cases we're aware of and speaking to those agencies," said Sgt. Tony Sheneman, spokesman for the Tracy Police Department.

Huckaby grew up in La Habra and Brea, where she attended Brea Olinda High School. After Huckaby's arrest, Brea and La Habra police officials said they checked their files and found no record of her.

Huckaby is due back in court Friday.

Contact the writer: 714-704-3793 or stully@ocregister.com