Third Love-Child Claim Hits Paraguayan President

CNN
April 23, 2009

http://edition.cnn.com/2009/WORLD/americas/04/23/paraguay.president/

(CNN) — A third woman has come forward claiming that Paraguayan President Fernando Lugo fathered a child with her out of wedlock.

Damiana Moran, a teacher, told reporters Wednesday that she is confident Lugo will recognize the paternity of the 16-month-old boy.

"He has the will to take responsibility as it corresponds to the rights of the child," she said.

Moran's claim is the third in two weeks against the leftist president, who shot to power eight months ago after spending years as a Roman Catholic bishop fighting for the rights of his poor parishioners.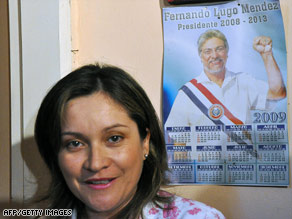 Damiana Moran says she is speaking about the child to stop political opponents from exploiting the situation.



Lugo, 57, acknowledged last week that he is the father of a 2-year-old child conceived in the months before he stepped down as bishop.

That admission came after the woman, Viviana Carrillo, filed suit seeking a paternity test.

Then on Monday, a second woman claimed she also bore a child with Lugo.

Benigna Leguizamon said her son was conceived in 2002, and that she was going public to help the 6-year-old boy, who is starting school.

She has asked for a DNA test to establish paternity.

"The law presumed that he who does not take the DNA test accepts paternity," her lawyer, Sergio Park, said Wednesday.

The third accuser, Moran, said she had worked for Lugo's election and was speaking out about the child to prevent the president's political opponents from exploiting the situation.

"The most important thing for me ... is my political role ... with my community and with my society. ... (That) is what drove me to clarify this before this story is manipulated as it was with the two other women," she said.

Some Cabinet members interpreted Lugo's acknowledgment of paternity as an indication of the change he has promised to bring about to achieve greater transparency in the public sector.

"This is the Paraguay that we want," Liz Torres, minister of children's issues, said earlier this week. "This is the Paraguay of serious change, in which there is no double standard or secrets. It seems to be an example, a very big lesson."

But some opposition party members said it appeared that Lugo had practically been forced to acknowledge what happened, that he had not done so willingly.

Sen. Julio Cesar Velasquez of the opposition Colorado Party called on the Vatican to excommunicate Lugo.

Lugo was made a lay Catholic last year, about the time he assumed the presidency.