Forget Monica Lewinsky and Gennifer Flowers; Paraguay Pres. Fernando Lugo Fathered Love Child

By Harold Emert In Rio De Janeiro
New York Daily News
April 23, 2009

http://www.nydailynews.com/news/us_world/2009/04/23/2009-04-23_forget_monica_lewinsky_and_gennifer_flowers_paraguay_pres_.html

And you thought Bill Clinton was a horndog.

A third woman came forward Thursday to claim the president of Paraguay, a former Roman Catholic bishop, fathered her child out of wedlock.

Teacher Damiana Moran says the latest love child, a 16-month-old named Juan Pablo after the late Pope, was conceived when she was a church outreach worker.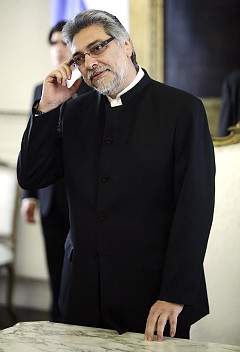 Paraguay's President Fernando Lugo at the swearing in ceremony of a new cabinet member in Asuncion, on Thurs. April 23, 2009. A woman says she gave birth to his illegitimate child.
Photo by Saenz


"I fell in love because as a man, he is phenomenal. He is charismatic," Moran said.

"He was my ideal of a man and social-political leader."

Fernando Lugo has been beset with scandals in the past two weeks as a string of ex-lovers have claimed they bore his child.

Moran says she met Lugo in 2006, after he gave up his position in the church, and worked as a local coordinator during his presidential campaign.

She still backs his government.

"I do not need money or his last name for the child, because I can support my family," said Moran, who has two adult children.

"I am the owner of a child day care center and have plenty of work."

The 39-year-old added that Lugo gets full marks between the sheets, and claims six other women will soon step forward to claim he also sired their children.

"I can guarantee that Lugo is a phenomenon in everything, not only in politics," she said.

Moran's claim is the third in two weeks against the leftist president, who shot to power eight months ago after spending years as a Roman Catholic bishop fighting for the rights of his poor parishioners.

Last week, the 57-year-old acknowledged he is the father of a 2-year-old child conceived in the months before he stepped down as bishop.

The admission came only after the child's mother, Viviana Carrillo, a 26-year-old former parishioner, filed suit seeking a paternity test.

On Monday, a second woman said she also had a child with Lugo.

Benigna Leguizamon says her son was conceived in 2002, and she was going public to help the 6-year-old boy, who is starting school.

She has also asked for a DNA test to establish paternity.

This latest baby momma says she went public to stop political opponents exploiting the situation.

"The most important thing for me ... is my political role ... with my community and with my society," she said.

"[That] is what drove me to clarify this before this story is manipulated as it was with the two other women."