Judge Denies Bail Reduction for Salinas Priest
The Rev. Antonio Cortes Pleads Not Guilty in Molestation Case

By Sunita Vijayan
The Californian
April 23, 2009

http://www.thecalifornian.com/article/20090423/NEWS01/904230305

The Rev. Antonio Cortes pleaded not guilty Wednesday afternoon as more than 100 of his supporters looked on in Monterey County Superior Court Salinas.

The 41-year-old parish priest of St. Mary of The Nativity Catholic Church in east Salinas was arrested a week ago after a 16-year-old boy filed a police report alleging that the priest sodomized and molested him and gave him alcohol.

Cortes was taken into custody at the church's office, across from the church grounds at 1747 Second Ave. He is being held at Monterey County Jail on a $750,000 bail.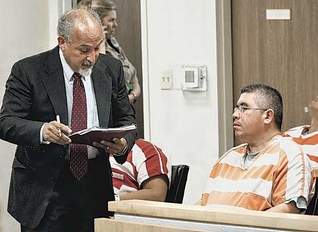 Salinas attorney Miguel Hernandez, left, talks with his client, Father Antonio Cortes, as they wait for Cortes' arraignment in Judge Adrienne Grover's court Wednesday afternoon.
Photo by Richard Green


At his arraignment Wednesday, Judge Adrienne Grover denied a request for a bail reduction by Cortes' defense attorneys, Miguel Hernandez and J. Hernandez.

"The concern is the church might assist in Cortes' release and hiding from the jurisdiction of court," said Grover, referring to the prosecutor's opposition to bail reduction. "My primary concern is the potential for flight here and that is because ... he simply doesn't have the kind of ties."

Hernandez said there is no basis to the argument that Cortes is a flight risk and speculation that the diocese may provide monetary backing to Cortes. While he has no familial or property ties in the community, he said, his client is very involved in the community.

The Diocese of Monterey has said it will not pay for Cortes' attorney fees or bail.

Meanwhile, a hearing on a gag order in the case will be heard Friday.

"Father Cortes is being tried in the press," said Miguel Hernandez, referring to "inflammatory" evidence revealed by the prosecutor this week. "It's highly unlikely for Father Cortes to get a fair trial."

Prosecutor Rolando Mazariegos, a Monterey County deputy district attorney, said Cortes has been charged with one felony count of sodomy with a person under the age of 18 and 12 misdemeanor counts of child molestation, providing alcohol to a minor and immoral acts before a child.

According to the Salinas police affidavit, Mazariegos said, Cortes allegedly began counseling the teenager at age 14 when Cortes was stationed as an associate pastor at Greenfield's Holy Trinity Catholic Church. The boy followed Cortes when he moved to St. Mary's, he said. It is further alleged, Mazariegos said, that during the pretext calls made by the boy after he went to the police, Cortes has admitted to some of the incidents described. He said, however, that admissions are not complete confessions.

n the investigation, Mazariegos said, police found Web sites of gay pornography stored in Cortes' home computer.

The affidavit also cites that police found two condoms in Cortes' wallet and images of shirtless young juveniles stored in his cell phone.

Mazariegos said the defendant regularly gave the teenager brandy or beer.

The incidents allegedly occurred during the months of February, March and April of this year.

Miguel Hernandez said after Wednesday's hearing that he was disappointed by the judge's denial of a bail reduction and plans to take the issue up before the 6th District Court of Appeal soon. "Any felony is serious, but there is a spectrum from least serious to most serious," Hernandez said. "This is very bottom rung in seriousness."

He said he has had clients charged with more serious crimes, such as murder, with lesser bail amounts.

Additionally, the judge ordered the surrender of Cortes' passport by today. Cortes has been a local resident since 1995.

Warren Hoy, spokesman for the Diocese, said Cortes' employment file shows he began working at St. Mary's in June 2007. As parish priest, Hoy said, Cortes earns roughly $3,700 a month. He also receives free housing at the parish rectory, which includes paid utilities, phone and basic cable television. Hoy said Cortes is also provided a car, and insurance and gas are paid for. As provided to all their priests, Hoy said, Cortes has medical insurance and a retirement plan.

The Rev. Jose Alberto Vazquez-Martin, the diocese's director of vocations, has taken over Cortes' duties at St. Mary's.

Mazariegos said more charges may be filed against Cortes, depending on the outcome of the ongoing investigation.

If there are no new charges, he said, and Cortes is convicted of the 13 counts against him right now, he faces a maximum of five years and eight months in prison and will have to register as a sex offender for life.

Supporters At Hearing

At the hearing in Salinas Wednesday, Cortes' supporters spilled out of the courtroom and into the hallway.

Even with the information given by the prosecutor about the evidence found in Cortes' wallet and computer, some people maintained he is innocent.

"He cares about the community," said Maria Soriano of Salinas, adding that Cortes has been a strong supporter of anti-gang activities.