Angels & Demons Ignores 800 Pound Gorilla in Room, Our Real Stories of Catholic Intrigue

By Kay Ebeling
Examiner
April 28, 2009

http://www.examiner.com/examiner/x-1960-LA-City-Buzz-Examiner~y2009m4d28-Howard-ignores-800-pound-gorilla-in-room-and-a-shipload-of-real-stories-with-Angels--Demons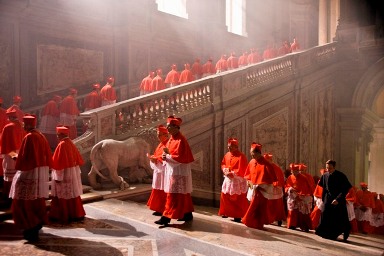 Scene from Angels & Demons (Sony) there is so much more story untold



Ron Howard is proving he may really be Opie, ignoring the 800 pound gorilla in the room with the release of Angels & Demons May 15th. In the story an assassin kidnaps four cardinals and plans to kill them and to blow up The Vatican. And the reason for all this pent-up anger has something to do with something that happened about seven hundred years ago?????? If there is any reason people in 2009 would get angry at the Catholic Church, it would likely be the serial felonies from recent decades, crimes against thousands of children, some who made it to adulthood. Pedophilia in the Catholic Church destroyed lives, and are crimes where the Church continues to use manipulation of civil law and criminal justice, and outright abuse of power, to keep the truth about its crimes from coming out.

Isn't the pedophile crisis a little bit more topical than something the Illuminati may or may not have done in 1300? Funniest thing is the Catholic Church is criticizing Howard for the film Angels & Demons, when from what I see, the film is an apology Howard is making to the church for making DaVinci Code. Howard and others from the production are making an embarrassing number of public appearances to get out the word, "Hey, no this is just fiction. We really love the Catholic Church." (see below). I wish everyone from Dan Brown to the screenwriters to the producers paid more attention to what is going on in the real world to write their fiction.

Hey, Ron Howard et al, there is a mound of REAL LIFE evidence against thousands of pedophile priests and the bishops who aided and enabled them at bishopaccountability.org, or my old website City of Angels, which is now City of Angels Productions, but we have no money. Why is Ron Howard still bothering with silly fiction when real life is much stranger than fiction, and a whole shipload more fascinating, stories that have never been told before. Especially when it comes to the stories of pedophile priests in the Catholic Church and the efforts the church has gone through to keep the real story stifled. Oh well City of Angels will do the story, it will just take a little time.


'Angels & Demons' + Catholic League = $$$$$

Entertainment Weekly - ?Apr 22, 2009?

Barely, but it did it. It was also a limited release film. Ron Howard has successes and failures and Angels and Demons looks like a success. ...

'Angels & Demons' Latest of Many Films to Rouse Religion's Wrath

ABC News - ?Apr 23, 2009?

Ron Howard's "Angels & Demons," his prequel to "The Da Vinci Code," is the latest film to rouse the Catholic community. Last week, Bill Donahue, ...


Catholics will enjoy Angels & Demons: Ron Howard

CBC.ca - ?Apr 22, 2009?

Ron Howard is seen with actor Tom Hanks on the set of the movie Angels & Demons in Rome's Piazza del Popolo Square, last June. (Pier Paolo Cito/Associated ...


Angels & Demons: The Almighty Backlash Begins

E! Online - ?Apr 21, 2009?

"Howard must be delusional if he thinks Vatican officials are going to like this propaganda—they denied him the right to film on their grounds. ...

Ron Howard: Catholics Will Enjoy Angels & Demons

Seattle Post Intelligencer - ?Apr 21, 2009?

... surrounding The Da Vinci Code, director Ron Howard is trying to get ahead of any criticism that his latest film, Angels & Demons, is anti-Catholic. ...

Angels and Demons not anti-Catholic: Ron Howard

Hindustan Times - ?Apr 22, 2009?

"Let me be clear: neither I nor Angels & Demons are anti-Catholic. And let me be a little controversial: I believe Catholics, including most in the ...


Director Ron Howard defends "Angels & Demons"

Reuters - ?Apr 21, 2009?

... defended his film adaptation of "The Da Vinci Code" author Dan Brown's "Angels & Demons" from criticism that it smears the Roman Catholic Church, ...

Catholic Church demands ban on film

Hindu - ?Apr 21, 2009?

New Delhi (PTI): The Catholic Church in India has demanded a ban on the release of a film based on Dan Brown's bestseller "Angels and Demons", alleging that ...


Ron Howard Illuminates Angels & Demons: "Catholics Will Enjoy"

E! Online - ?Apr 20, 2009?

Looking to nip the inevitable religion controversy in the bud, the director of the upcoming Angels & Demons is already defending the Da Vinci Code sequel's

*****************

Onward...