Pope Laments Canada School Abuse

BBC News
April 30, 2009

http://news.bbc.co.uk/2/hi/americas/8026429.stm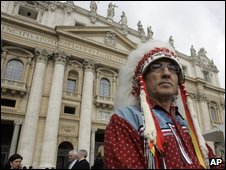 The visiting delegation welcomed the Pope's recognition of the suffering



Pope Benedict XVI has expressed his sorrow that generations of aboriginal children were abused at some Catholic boarding schools in Canada.

The Pope was speaking after a private meeting at the Vatican with an aboriginal leader and Canadian bishops.

From the late 19th Century until the 1970s, some 150,000 children were forcibly sent to church-run schools in an effort to assimilate them.

Many of the children suffered physical and sexual abuse.

Pope Benedict held a private meeting on Wednesday with Phil Fontaine, the national chief of the Assembly of First Nations, and Catholic representatives from Canada. Speaking afterwards, Mr Fontaine, himself a former pupil at one of the schools, said he was moved to hear the Pope says how sorry he was "that we were forced into this tragic situation".

"I sensed his anguish and pain. He acknowledged our suffering and that is important to me and that is what I was looking for," Mr Fontaine said.

A Vatican statement issued after the meeting said: "Given the suffering that some indigenous children experienced in the Canadian residential school system, the Holy Father expressed his sorrow at the anguish caused by the deplorable conduct of some members of the Church and he offered his sympathy and prayerful solidarity.

"His Holiness emphasised that acts of abuse cannot be tolerated in society," it said.

Forcibly enrolled

The residential schools operated from the late 19th Century until the 1990s, although most of them shut in the 1970s.

Native Indian children were taken from their families and forcibly enrolled in the institutions, which were run by Christian churches on behalf of the government which pursued a policy of assimilation.

The federal government acknowledged 11 years ago that physical and sexual abuse in the schools was rampant.

Many schoolchildren recall being beaten for speaking their languages, and losing touch with their parents and culture.

The legacy of the system has been cited by aboriginals as the root cause of epidemic rates of alcoholism and drug addiction among their people.

In April 2008, the Canadian government issued a formal apology, which formed part of a compensation agreement between the government, churches and the surviving former schoolchildren.

A truth and reconciliation commission was also set up, with access to government and church records.

Individual Catholic dioceses had already apologised for their involvement in the schools.

There were about 130 schools, three-quarters run by the Catholic Church but also by the Anglican, United and Presbyterian churches, which have also apologised.