Paraguayan Leader Accused of Fathering 3rd Illegitimate Child

News & Observer
April 22, 2009

http://www.newsobserver.com/1573/story/1496903.html

SAN LORENZO, Paraguay — Fernando Lugo, the Roman Catholic bishop turned president of Paraguay, risked becoming a soap opera caricature after a third woman emerged Wednesday claiming that he's the father of her child.



The third claim within two weeks shook Lugo's eight-month-old government and left Paraguay buzzing that more women may yet step forward.



The latest news tarnished the storybook tale of a leftist president who unexpectedly shot to power last year after spending years as a bishop challenging entrenched interests on behalf of his poor parishioners.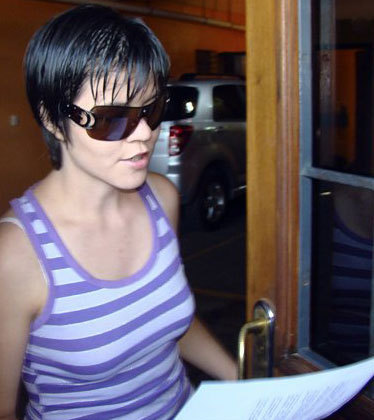 Paraguay's President and former Catholic Bishop Fernando Lugo admitted Monday the paternity of a two-year old boy he had during a relationship with Viviana Carrilllo, when he was still the bishop of San Pedro, 400 kms northeast from Asuncion.



Lugo, 57, canceled a one-day trip to Washington on Wednesday but didn't comment publicly on the latest claim.

After the first paternity charge surfaced, Lugo seemed to have put the emerging scandal behind him last week by quickly acknowledging that he's the father of a 2-year-old boy.

Then a second allegation was made. This time it was by a 30-year-old woman, Benigna Leguizamon, who sells soap door-to-door and said Tuesday that Lugo had fathered her 6-year-old son, Lucas Fernando.

The claim was plausible enough that Lugo's private attorney met with her. However, Leguizamon said afterward that she doubted the president's honesty and refused to agree to DNA tests by a private lab, as the attorney had suggested. On Wednesday, she formally filed a paternity claim against Lugo.

Also on Wednesday, Damiana Hortensia Moran, 39, the third woman, said that Lugo was the father of her 16-month-old son, Juan Pablo. Moran, who owns a child-care center, spoke in San Lorenzo, the town where she lives just outside Asuncion, Paraguay's capital.

"I hope that he recognizes Juan Pablo and transmits to him his values and beliefs," Moran told McClatchy by telephone. "I am not asking for any money. I can pay for his education. I just want him (Lugo) to tell the truth so others won't distort it."

Far from sounding like a spurned lover, Moran noted that she'd worked for Lugo's election, and she declared her political solidarity with him. She said that she'd gone public to prevent his political enemies from exploiting rumors about their relationship.

Moran, a divorced mother of two children in their early 20s, described Lugo as "a charismatic man, who is very attractive, simple. He treats everyone the same."

Moran said that she'd spoken by phone with Lugo on Monday and Tuesday, and that he said he'd assume his responsibilities for Juan Pablo. She said she'd named her son after the late pope, John Paul II, or Juan Pablo in Spanish.

Alfredo Boccia, a political columnist in Asuncion, said that the three cases had rocked Lugo's government but hadn't yet plunged it into a political crisis.

"Nobody is talking about impeachment," Boccia said, which would require a two-thirds vote in Congress, he added. "But I don't know how many more children can come out before the situation gets very serious for Lugo. I'm not so sure that this (the latest claim) will be the last one."

During last year's presidential campaign, responding to rumors, Lugo denied that he'd fathered any children.

Refusing to accept paternity until forced to "is what is culturally accepted in macho Paraguay," said Clyde Soto, the director of a nonprofit group in Asuncion that promotes women's rights. "It's very important that he deal responsibly with the claims by the women."

Adding to Lugo's woes, Bishop Rogelio Livieres said Tuesday that church leaders in Paraguay had covered up complaints that Lugo had had affairs while he was still a bishop.