Archdiocese of St. Louis Takes Action against Priest

By Cordell Whitlock
KSDK
May 11, 2009

http://www.ksdk.com/news/local/story.aspx?storyid=175029&catid=3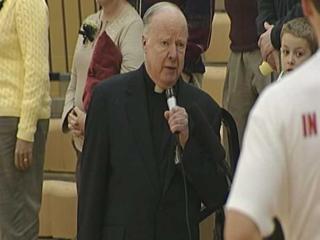 Father Robert Osborne.



KSDK -- The Archdiocese of St. Louis said a priest can no longer lead public mass or live at a rectory.

Father Robert Osborne, former President of Vianney High School, belongs to the Marianist Order in the Catholic Church. He has been at the center of controversy for the last several years after allegations were made in 2006 that he sexually abused a teenager. No criminal charges were ever filed, but there was an out of court settlement.

Father Osborne's supporters said he has been the target of a witch hunt. The Archdiocese has taken action against him with little explanation.

The Archdiocese sent out a statement Saturday afternoon, indicating Reverend Osborne may no longer live at a parish rectory and may not celebrate mass publicly.

The statement read, in part: "Upon obtaining information from the Marianist province that was recently made available to the Archdiocese of St. Louis regarding a previous investigation involving Rev. Robert Osborne, a priest in the Society of Mary (Marianists), Archdiocesan administrator Bishop Robert J. Hermann has removed Rev. Osborne's priest faculties."

No other information was given.

The Survivors Network of Those Abused by Priests (SNAP) has pushed the Archdiocese to remove Reverend Osborne. They said the Archdiocese needs to be more forthcoming about its recent decision.

"We also think by the way that both the Marianists and the Archdiocese, they owe it to their flock and the public to come clean and tell us what this new information is and turn over all of their information about osborne to police and prosecutors," said David Clohessy with SNAP.

Prosecutors declined to press charges against Osborne for the 2006 allegations. Father Osborne is currently a visiting priest at St. Peter Parish in Kirkwood. Members of SNAP said they are emboldened by the Archdiocese's actions against Osborne.

"I think the witch hunt is a thing of the past," said Linda Briggs-Harty with SNAP. "I think it's clear there are serious and credible allegations and that's why the Archdiocese acted. I don't think there's any question about that at this point."

A spokesman for St. Louis County Prosecutor Bob McCulloch told me his office is interested in the new information regarding father Osborne, but does not know what it is. The Archdiocese said there will be no further comment on the matter.

NewsChannel 5's calls to the Marianists and Father Osborne's attorneys were not returned.