Suit Says Priest Raped Woman for 20 Years, Starting in Bethlehem

By Matt Birkbeckand Darryl R. Isherwood
The Morning Call
May 14, 2009

http://www.mcall.com/news/local/all-a5_5priest.6898682may14,0,4750800.story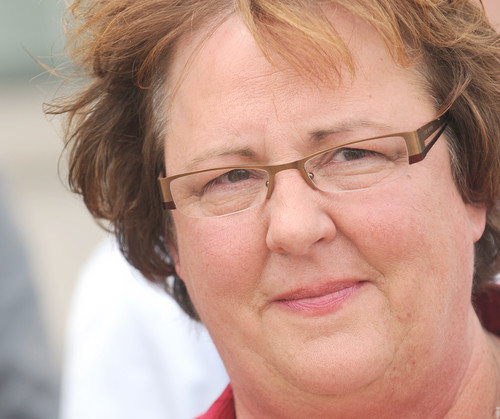 Sharon Tell shown with her attorney and family outside of the Diocese of Allentown offices on Wednesday afternoon.



As a 12-year old, Sharon Tell was part of a devout Catholic family that routinely attended Mass at Notre Dame Church in Bethlehem.

The family was so close to the Rev. James J. McHale, their parish priest, that he routinely visited them after they moved to Delaware and he became a monsignor.

But McHale was no friend, sexually molesting Tell from age 12 to 32, a lawsuit filed Wednesday against the Diocese of Allentown alleges.

''For years I have just wanted the church to hear me,'' she said at a news conference in Allentown. ''I said, 'This is the man who is raping me and sexually abusing me,' and they said, 'It's your word against his,' and they believed him. They just didn't want to believe what I had to say.''

Tell had no legal recourse until 2007, she said, when Delaware passed a law opening a two-year window to file cases otherwise barred by a statute of limitations. That window closes in July. In Pennsylvania, victims must file within two years of an offense or by their 20th birthday.

The diocese issued a statement saying it ''has not seen a copy of this lawsuit and thus cannot comment specifically.''

McHale twice was a member of the White House Conference on Aging and ran Catholic Charities, the diocese social service network. He had a private audience with the pope in 1973.

McHale was pastor of Sacred Heart Church in Bath when he died in 1997. Earlier, he was assistant pastor at Notre Dame, director of Holy Family Manor in Bethlehem, pastor of St. Vincent de Paul in Minersville, Schuylkill County, and assistant pastor of Sacred Heart of Jesus in West Reading.

Described as a ''trusted counselor, spiritual advisor, mentor and friend to every member of the family,'' McHale began abusing Tell in 1964 and continued after the family moved to Smyrna, Del., in 1966, the suit says.

While visiting the family in Delaware, McHale stayed at their home, where he celebrated Mass, the suit says. But he also allegedly ''isolated'' himself with Tell and engaged in ''unpermitted, harmful and offensive sexual contact,'' the suit says.

The alleged abuse continued until Tell was in her early 30s. The diocese knew that McHale was a predator, the suit says, but engaged in a ''cover-up'' of his actions.

Tell, now of Millersville, Lancaster County, said she tried to tell diocese officials about McHale on three occasions, the last during a meeting in 2000.

''It feels like the whole world has been lifted off my shoulders,'' she said Wednesday.