Priest Abuse Victims Release New Allegations

WISN
May 18, 2009

http://www.wisn.com/news/19497761/detail.html

[with video ]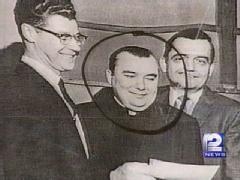 Father Lawrence C. Murphy



Documents Illustrate Case Against Father Lawrence Murphy

MILWAUKEE -- Victims of clergy sex abuse and their advocates have renewed a claim that a former Milwaukee archdiocese leader is continuing to engage in a cover-up.

The claims focus on one priest in particular.

The priest has been dead for more than a decade, but a court document released Monday from an ongoing fraud case against the church shows that an evaluation of the priest concluded that he assaulted up to 200 students over two decades.

"Thirty years ago, this man and some of his class mates from St. John's School for the Deaf had been sexually assaulted and molested by Father Lawrence Murphy," Survivors Network of Those Abused by Priests (SNAP) representative Peter Isely said.

Murphy died in 1999 but SNAP brought him to the forefront by saying it was releasing, for the first time, never-before-seen church documents written by former Archbishop Rembert Weakland.

The document showed that after Murphy died, Weakland decided not to hold a public funeral so as not to draw attention to his alleged sexual abuse.

SNAP said as many as 200 children may have been victims, including Arthur Budzinski.

Budzinski's daughter, Kiki Dawson, said that he was abused six times by Murphy at different locations. During an interview with 12 News, Dawson translated for her father.

"I can tell you that according to this file, this is probably one of the worst pedophile priest cases in the United States," Isely said.

That school for the deaf no longer exists, as it's an elementary school under a different name.

Weakland was Murphy's boss at the time the alleged sexual abuse took place. He announced last week in a soon-to-be-published book that he is gay but never molested children.

The SNAP group said that it is as though he did, however, by claiming that he covered for Murphy for years. The group used words written directly by Weakland in his book.

"To protect Father Murphy's good name, I had to do what I did and keep this as quiet as possible," Isely said.

The archdiocese released a statement late Monday saying, "The documents released by SNAP today include allegations about Lawrence Murphy that have been acknowledged by the archdiocese for many years. The abuse committed by Father Lawrence C. Murphy 30 years ago was a horrendous betrayal of his priestly vows."

The archdiocese went on to say that they have put in place effective policies and procedures to prevent abuse in the future.