Sexual Abuse Claims Trail Teacher from Delasalle to Cretin

By Jeff Strickler
Star Tribune
May 19, 2009

http://www.startribune.com/local/stpaul/45322202.html?elr=KArksLckD8EQDUoaEyqyP4O:DW3ckUiD3aPc:_Yyc:aUnciaec8O7EyUsl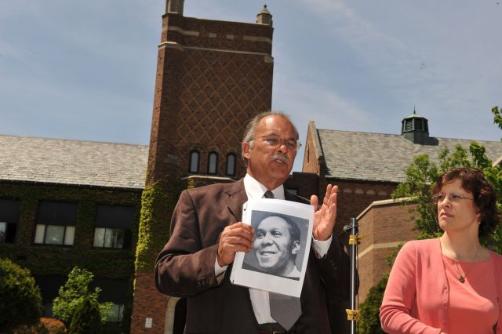 Activists Bob Schwiderski, left, and Suzanne Severson announced a lawsuit against Catholic Brother Charles Anthony (Raimond) Rose, who is accused of molesting a student from Cretin High School in 1970. Schwiderski held an enlarged yearbook photo of Rose, who also taught at DeLaSalle.



A Roman Catholic brother accused of sexual abuse at DeLaSalle in 1966 now faces a similar allegation that happened four years later at Cretin.

A Roman Catholic brother accused in a lawsuit of sexually abusing a student at DeLaSalle High School in Minneapolis has been named in a second suit alleging that he abused a student at Cretin High School in St. Paul after being transferred there from the Minneapolis school.

The alleged event at the St. Paul school took place in 1970, four years after the incident in Minneapolis. The first victim said he reported the abuse to school officials immediately.

The suit, announced Monday, also adds allegations of fraud, arguing that the Christian Brothers order to which the teacher belonged was aware of his sexual history and knew that he "was a danger to children" when he was reassigned to Cretin, which merged with Derham Hall High School in 1987.

The defendant is Brother Charles Anthony (Raimond) Rose, 76, who is retired and living in Chicago. In 2003, he was named in a suit charging that he molested a student in California in 1982. That case was settled out of court for $1.1 million.

The first local suit against Rose was filed in February. The names of the plaintiffs in both cases are confidential. The filing of the new suit was announced by Bob Schwiderski, director of the Minnesota chapter of SNAP (Survivors Network of those Abused by Priests).

"I'm here speaking for him because he's carrying some very heavy burdens dealing with shame, guilt and confusion," Schwiderski said of the plaintiff, who is described as a Minnesota resident who was 15 or 16 at the time of the alleged abuse.

Rose was moved to at least one more Twin Cities school after the alleged incident at Cretin. Suzanne Severson, co-moderator of the Twin Cities steering council of Voice of the Faithful, a Roman Catholic lay group, had Rose as a history teacher when she was a sophomore at Archbishop Brady High School in West St. Paul in the 1973-74 school year. She has a picture of him from her yearbook to prove it.