Ex-Priest to Be Extradited to UK

BBC News
June 9, 2009

http://news.bbc.co.uk/2/hi/uk_news/england/west_midlands/8092310.stm

A former Roman Catholic priest suspected of abusing altar boys in the UK is to be extradited from the United States, a Los Angeles court has ruled.

James Robinson is the subject of five complaints relating to alleged offences in the Coventry and Birmingham areas.

He worked in Sutton Coldfield, Cradley Heath and Newcastle-under-Lyme.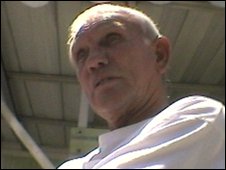 Father James Robinson denies the claims



Father Robinson, who denies the claims, is expected to be extradited in the next two months unless he successfully appeals the US court's decision.

Tracked down

A magistrate judge approved the extradition request on Thursday.

West Midlands Police began reviewing claims about Father Robinson in 2008 after admitting it failed to investigate when a complaint was made against him in 2003.

Father Robinson moved to California in 1985 but was was tracked down by the BBC's Kenyon Confronts programme and challenged face-to-face by one of his accusers.

The Archdiocese of Birmingham said last year it had written to Father Robinson, urging him to return to the UK, but the former priest had refused.