Thousands March in Solidarity with Abuse Victims

Irish Times
June 10, 2009

http://www.irishtimes.com/newspaper/breaking/2009/0610/breaking2.htm

Up to 10,000 people gathered outside Leinster House this afternoon after taking part in a silent march through Dublin organised as a mark of solidarity with those who suffered clerical abuse in church-run institutions.

An eerie silence fell over the city centre as the march weaved through the city. The horrors inflicted on tens of thousands of children in orphanages and schools across the country spilled onto the streets of the capital as survivors were supported in a public demonstration of suffering and grief.

A banner with the words 'Cherishing all of the children of the nation equally' from the 1916 Proclamation was carried by emotional protesters who gathered on Molesworth Street in the shadow of the Dail.

The dignity and peace of the march was shattered only when victims demanded to voice their pain.

Marie Therese O'Loughlin took to the stage to describe her childhood with the Sisters of Mercy.

She said she was was forced to wash excrement off younger children with cold water from the toilet and wash their dirty bed sheets before being made to make rosary beads in what she called the 'Goldenbridge factory'.

"There are lots of people like me," she told the crowd as they chanted "We Want Justice" and "Name and Shame".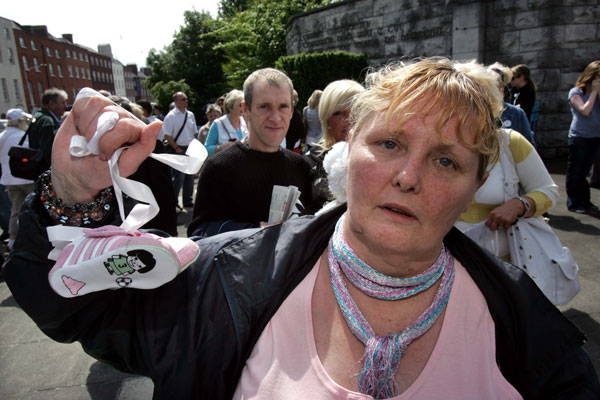 Mary Smith, a former resident of Cappaquin Industrial School, taking part in the march of solidarity for victims of institutional abuse in Dublin today.
Photo by Matt Kavanagh


"This was a mini holocaust and the Government and the religious tried to pretend we weren't hurt in these institutions," she added.

Abuse survivor Christine Buckley joined four victims in a wreath laying ceremony on the back of a temporary stage — an open-back lorry opposite the Dail gates. Two black wreaths were left for those who died and two white for the living.

Emotional protesters then repeated words on a petition handed over to Christian Brother Kevin Mullan and Sr Marianne O'Connor, head of the Conference of Religious of Ireland.

Loud applause erupted after they read: "We the people of Ireland, join in solidarity and call for justice, accountability, restitution, and repatriation for the unimaginable crimes committed against the children of our country by religious orders in 216 or more institutions."

Ms Buckley, who first lifted the lid on institutional abuse 25 years and 20 days ago, told the crowd she never thought this day would come. "I wish we had 365 days like this," said the former Goldenbridge resident.

"I find it ironic that for once we the victims are in front and the religious who abused are behind.

"We have tried and tried to say what happened to 165,000 children in 216 hellholes. Now finally, we have been vindicated."

As 216 black and white balloons marking the number of institutions were released into the air, many protesters made the short walk to the front of Leinster House and tied white ribbons, children's shoes and teddy bears to the gates.

John Kelly, Survivors of Child Abuse in Ireland, pleaded with protesters not to get angry but maintain their dignity like they had for many years.

He revealed up to 300 survivors were invited to a reception at Aras an Uachtarain on June 28 by President Mary McAleese.

"This will have great significance because you were denied your constitutional rights as a child, you were valued as a child, the constitution didn't mean anything," he said.

"Now finally the state is saying we cherish you as adults. That is very important to us."

Ms Buckley, who runs the Aislinn support group, called for a trust to be formed to take money from religious orders to compensate victims and demanded that organisations be penalised if found guilty of any deception.

"This trust fund should be independent so that means the religious no longer control us," she added. "We ask that every single payment that was made at the sham of a redress board

is revisited."

This morning Archbishop of Dublin, Diarmuid Martin, said he would be unable to attend the march as he was currently debating the Ryan report at the Bishop's Meeting in Maynooth. He will send a representative to the march instead.

Organisers urged people to attend the march and said those who wished to show solidarity with the victims should wear a white ribbon and sign the petition of solidarity, available on the SOIAI website www.irishsolidarity.com.