Bishop: Priest Cannot Return to Active Ministry

By Amanda Smith-Teutsch
Tribune Chronicle
June 10, 2009

http://www.tribtoday.com/page/content.detail/id/523196.html?nav=5021

YOUNGSTOWN - The dishonored priest who admitted to sexually abusing a high school student told church officials he only abused one child over his 30 year career in the Youngstown diocese.

Bishop George Murry, of the Diocese of Youngstown, answered questions about the Rev. Thomas Crum on Tuesday at diocesan offices. Crum was removed from active ministry last week after confirming allegations that he had sexually abused a minor in 1975-76.

Murry said Crum was asked by diocese investigators if he had abused any other children other than the victim who came forward.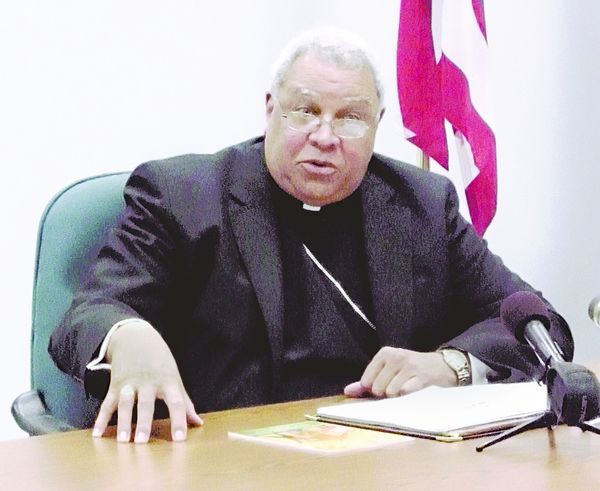 Amanda Smith-Teutsch Bishop George V. Murry speaks Tuesday about the sexual abuse allegations against the Rev. Thomas Crum. Murry held a news conference at the diocesan offices in Youngstown.



"He was asked, and his answer was no," Murry said.

On May 22, a former student of Cardinal Mooney High School contacted the diocese, alleging he had been abused by Crum between 1975 and 1976 while enrolled at the school. Crum, now 60, was then on the faculty, the bishop said.

The bishop initiated a preliminary investigation to see if the complaint was credible. After determining its credibility, the diocese reported the allegations to the Youngstown police department and the prosecutors in Stark and Mahoning counties. Crum was then informed of the allegations by vicar for clergy, the Rev. John Jerek. Crum admitted to the sexual abuse to Jerek, Murry said.

"I removed him from active ministry, placed him on administrative leave and assigned him to a psychiatric facility for treatment," Murry said. Normally the matter would have been taken up by a diocesan review board for a disciplinary recommendation, but Murry said because of the admission of guilt, he felt it necessary to act immediately. The board was informed and supported the action, Murry said.

As of Monday, Crum was in a residential psychological treatment facility, according to Jerek.

Letters detailing the allegations and Crum's removal were read at all Masses at Our Lady of Peace in Canton, where Crum was currently the pastor. A meeting will be held Friday for parents with children in the church's school, Murry said, to help them explain the situation to their children.

A similar letter also was read at any parish where Crum served. He served in 11 different parishes across the diocese since 1975. Murry said such moving around was common as priests advance their careers and are sent where they are needed.

"We encourage anyone with knowledge to come forward, and for anyone with experiences to come forward," he said.

During the removal from ministry, Crum may not present himself as a priest, celebrate the sacraments or wear the Roman Collar. He still enjoys the hospitalization benefits and other entitlements as a priest, Murry said.

"We must provide for these persons until they can support themselves through employment or resign from the priesthood," said Murry. "But he cannot act as a priest. He can celebrate Mass in private, that is, by himself with no other person of the faith with him. He can celebrate the sacraments alone. That is it."

Crum will never be permitted to return to active ministry, said Murry. Only the pope has the authority to forcibly remove a man from the priesthood, Murry said, and makes such a step after a recommendation from the Congregation for the Doctrine of the Faith in Rome. "He can never return to active ministry," Murry said.

If he chooses not to resign from the priesthood, his activities will be monitored, Murry said.

"We have to take any steps necessary to make sure we will not put children in harm," he said. "We have expectations of priests, and the trust that is put into them by the people we serve," Murry said. "This is very disheartening."

Murry said he apologized on behalf of the church to the victim, and that Crum had apologized to him for the "shame" he brought upon the church by his actions.

Anyone with information is asked to call the Diocese Victim Assistance coordinator at 330-744-8451.

Contact: ateutsch@tribtoday.com