Defrocked Priest Sentenced to Probation

By Ann Mcglynn
Quad-City Times
June 24, 2009

http://www.qctimes.com/news/local/article_4b7c5f02-6104-11de-ab3e-001cc4c03286.html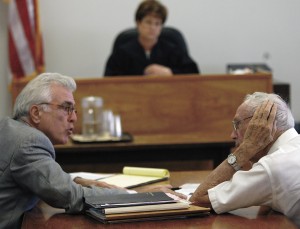 Ex-priest James Janssen (R) covers his left ear in order to listen to his lawyer Mike McCarthy while judge Marlita Greve waits, Wednesday June 24, 2009, during his sentencing hearing at the Scott County Courthouse. He was sentenced to two years probation for his perjury conviction.
Photo by John Schultz / Quad-City Times


A defrocked priest who lied to court officials will spend two years on probation, a judge ruled Wednesday.

James Janssen's conviction will be wiped from his record if he successfully completes probation, Judge Marlita Greve ruled. He must also pay a $750 fine.

Janssen, accused but never criminally charged with molesting several children, walked into court using a cane and wearing white - the color he was known to wear when he was a priest.

"I never meant to do anything wrong," Janssen told the judge after they moved to the bench so he could hear her speak. He noted he lost his keys the other day before saying, "I'm just losing my memory completely now. I am sorry. I'm just sorry."

Janssen declined further comment, except to say that he is 87, not 85, as court records indicate.

The sentence, said Janssen's attorney Mike McCarthy, is "what we think is the appropriate sentence. She was fair to him."

Greve, in handing down the sentence, noted Janssen's lack of criminal history. Probation is a common sentence for a first-offense, low-level felony like perjury.

Craig Levien, who represented several sex abuse survivors in the Diocese of Davenport, said there will never be sufficient punishment for what Janssen did to children.

"When the final story is written about James Janssen, it will state that he was a proven child molester, a defrocked priest and now an admitted felon," Levien said. "Today is a day that represents partial justice. For that, we are satisfied that he had to face some consequences for his actions."

One of Levien's clients was James Wells, who is a nephew of Janssen. Wells won a $1.4 million jury verdict against Janssen for sex abuse. It was that case that resulted in the perjury charges.

Janssen's acts are "known because of survivors like James Wells reporting what happened…not because of those who were in the know of what he was doing."

According to court documents, Janssen lied in April 2006 when he testified under oath that he did not transfer assets to a family member in the 10 years preceding that date. He later admitted to transferring assets, including more than $700,000 in bonds to his sister, Dorothy.

In July 2007, Janssen lied on his application for a court-appointed attorney on an accusation of contempt of court, documents say. He did not disclose ownership of and income from an annuity or that he had access to money with his sister to pay his expenses.

And in October 2007, officials said, he falsely testified under oath that he did not know about $80,000 in savings bonds. He later produced a list of bonds and admitted they were given as gifts to friends and family.

Janssen was jailed last year for contempt of court for failing to produce his assets. He was removed from the priesthood in 2004 by Pope John Paul II. Believed to be the first-ever Davenport priest to be defrocked, Janssen was ordained in 1948.

Janssen was a defendant in several civil suits alleging sex abuse, including the one filed by his nephew. The others were dismissed after the victims reached settlements with the Davenport diocese.

Janssen was never charged criminally with sex abuse because the statute of limitations ran out.