Deadline Looms for Sex-abuse Cases

By Beth Miller
The News Journal
June 29, 2009

http://www.delawareonline.com/article/20090629/NEWS01/906290312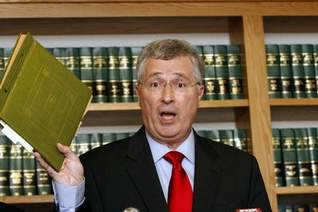 "We're sprinting toward the finish line," says Thomas S. Neuberger, whose Wilmington law firm has filed about 75 percent of the cases.



The two-year window of Delaware's 2007 Child Victim's Act is about to close, putting an end to a steady stream of civil lawsuits alleging child sexual abuse that dates to the 1950s and reaches to churches, schools and private homes.

The 2007 law eliminated the civil statute of limitations in such cases and opened the two-year period during which cases previously barred by the time limit could be filed.

More than 140 cases had been filed as of Friday, attorneys said, and lawmakers last week unanimously approved legislation to clarify that the deadline for the cases should be July 9 -- marking exactly two years since Gov. Ruth Ann Minner signed the act into law. Some judges and attorneys previously thought the window closes Tuesday, the last day of the fiscal year.

Though the following nine days may produce additional cases, attorneys expect most to be filed by Tuesday.

"If someone knocks on the door, we'd probably do it for them," said Thomas S. Neuberger, whose Wilmington law firm has filed about 75 percent of the cases. "But we're sprinting toward the finish line."

The law was the Legislature's response to victims and advocates who said the state's two-year civil statute of limitations denied victims adequate time. Experts say it can take decades for victims of child sexual abuse to be able to speak about what happened to them.

The issue came into sharper focus nationally in 2002 after the Boston Globe published detailed reports and court records tracing a pattern of abuse by Catholic priests who then were transferred quietly to other parishes. The scandal triggered an outcry from victims that they had been denied justice.

In Delaware, the vast majority of cases have been filed against Catholic priests, churches and schools, but claims also have been made against a sitting judge, public-school teachers in all three counties, two Baptist church schools (Fairwinds and Capitol), and several individuals.

About 10 cases include multiple plaintiffs suing one defendant -- including at least five pairs of siblings. One case was filed against three members of a Kent County family. Several have been filed on behalf of victims who have died.

Suits have been filed here against five other dioceses and archdioceses -- New York, Trenton, Allentown, Pa., Washington, D.C., and Baltimore -- all related to allegations of abuse by their priests during trips to Delaware.

Many of the clergy cases include claims related to priests who have died, but some still were in school or church settings when the allegations emerged.

No one faces more legal trouble than former diocesan priest Francis G. DeLuca, who was named in at least 20 lawsuits with claims spanning a 45-year period.

DeLuca served 38 years in the Catholic Diocese of Wilmington, retiring to Syracuse, N.Y., in 1993 after previous allegations were renewed against him. DeLuca, now 78, in 2007 pleaded guilty in Syracuse to charges he molested a great-nephew there until 2006. Pope Benedict XVI revoked DeLuca's priestly faculties last year.

A dozen cases name the Rev. Dennis Killion of the Oblates of St. Francis de Sales, a religious order that has drawn more litigation than any other order in Delaware -- about two dozen cases.

Many of the accused priests' names appeared on a list released in 2006 by now-retired Bishop Michael Saltarelli of priests implicated in sexual-abuse complaints. But some have never been publicly accused of such offenses before.

Thursday, officials of the Diocese of Wilmington said they had never received accusations against the Rev. John Francis O'Brien, who served in several parishes and as director of the Catholic Youth Organization between 1962 and 2003, the year he died. The suit against him, filed by an anonymous plaintiff, claims abuse in the early 1960s.

Bishop W. Francis Malooly, Saltarelli's successor, announced last week that he had suspended the priestly duties of the Rev. James Edward Richardson, 77, as diocesan policy requires while allegations are investigated. Richardson has denied the claims made in a suit filed by an anonymous plaintiff, according to the diocese. He was ordained in 1965 and has served in several parishes, most recently as part-time chaplain of St. Edmond's Academy.

Neuberger's firm, partnering with Jacobs & Crumplar, has filed at least 114 cases. San Diego-based Manly & Stewart, working with the Wilmington firm of Bartholomew Dalton, has filed about 30 and expects to file at least 20 more, according to attorney Mike Reck. Minneapolis-based Jeffrey Anderson has partnered with Wilmington's Conaty, Curran & Sisk on three cases.

One person -- Greg Kelly of Las Vegas -- filed on his own behalf, saying he could find no local attorney willing to take his U.S. District Court case against Judge William C. Bradley, who serves in the Court of Common Pleas. Kelly later retained the Philadelphia-based firm Laffey, Bucci & Kent. In court filings, Bradley has denied Kelly's claims of abuse and his attorney, Mason E. Turner Jr., declined comment.

All but two cases have been filed in Delaware's Superior Court, where they have been assigned to nine judges statewide, with Judge Calvin L. Scott handling the pretrial issues.