Former Capital Region Priest Accused of Sex Abuse

WTEN
July 18, 2009

http://www.wten.com/Global/story.asp?S=10747610

A priest who spent years living in the Capital Region has been arrested for sexual abuse.

62-year-old Father James McDevitt was arrested by Delaware County deputies on charges of sex abuse and endangering the welfare of a child.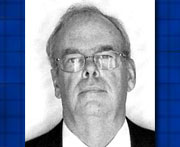 McDevitt



Deputies say the victims are six boys, ranging from 11- to 19-years-of-age.

McDevitt currently works at the Sacred Heart Church in Margaretville, but he has worked in the past at St. Pius X in Loudonville, St. Mary's Hospital in Troy and St. Mary's in Ballston Spa.

In response to McDevitt's arrest, Ken Goldfarb of the Albany Diocese said in a statement, "When the Albany Diocese first became aware of this matter about a month ago, Father James McDevitt voluntarily requested and was granted administrative leave from ministry.

"That leave will continue pending the disposition of the charges that have now been filed against him."