Priest Arrested on New Molestation Charges
Rev. Denis Lyons, 75, Is Accused of Molesting a Boy at St. John the Baptist School in the 1990s.

By Rachanee Srisavasdi
Orange County Register
July 21, 2009

http://www.ocregister.com/articles/lyons-schroeder-kirrer-2501332-john-baptist

A priest who escaped prosecution on allegations that he molested a boy more than 30 years ago was arrested Monday on new charges of molesting a second boy at a Costa Mesa Catholic school during the mid-1990s.

Denis Lyons, 75, was taken into custody at a community center near his Seal Beach home about 3:30 p.m. and was booked at the Costa Mesa Police Department, according to Orange County district attorney spokeswoman Susan Kang Schroeder.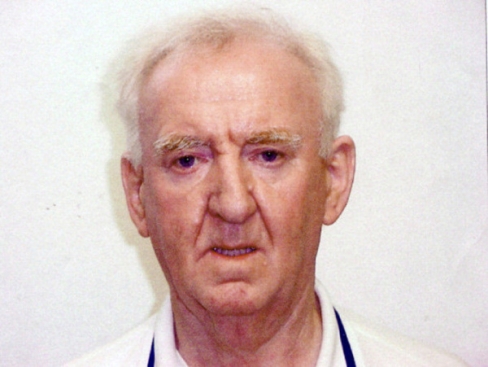 Former priest Denis Lyons, 75. Booking mug from Costa Mesa Police Department.



The abuse occurred from 1992 to 1995 at St. John the Baptist School, when the victim was between the ages of seven and nine, Schroeder said.

Lyons was charged with four felony counts of lewd conduct with a child under the age of 14, along with a sentencing enhancement of committing substantial sexual conduct, Schroeder said.

If convicted of the charges, Lyons faces 14 years in prison.

Lyons, who was removed from ministry in April 2002, has cost the Diocese of Orange more than $4 million in settlements of other sex-abuse claims.

The most recent payout came in February, when the diocese settled a lawsuit brought by Jonathan Kirrer, 24, of Fountain Valley for an undisclosed amount.

Kirrer, a student at St. John the Baptist, alleged he was abused in 1994 and 1995. Kirrer claimed that Lyons abused him four times – twice in the parish rectory and twice in the church's sacristy. He reported the abuse to Costa Mesa police soon after filing the lawsuit in March 2008.

Lyons denied the allegations.

On Monday, Schroeder would not comment on whether Kirrer was the victim in this case. She said more details on the arrest will be revealed Tuesday at a news conference at the District Attorney's Office.

Molestation accusations aren't anything new to Lyons. In 1993, he admitted to inappropriate behavior with two adults in 1979, when he was pastor at St. John the Baptist. He was placed into counseling but put on administrative leave in 2002 when he was assigned to St. Edward Church in Dana Point.

In 2003, he was charged with molesting a teenage boy for three years beginning in 1978 at St. John the Baptist. But that case was dropped after a U.S. Supreme Court ruling invalidated prosecutions of some older sex crimes, including acts allegedly committed Lyons.

Schroeder said the circumstances in that case were used in the current investigation against Lyons "to provide independent, corroborating evidence that supports the victim's claim."

Contact the writer: 714-834-3773 or rsrisavasdi@ocregister.com