Priest Set to Be Arraigned Today on Child-Abuse Charges

By Rachanee Srisavasdi
Orange County Register
July 22, 2009

http://www.ocregister.com/articles/lyons-diocese-kirrer-2501730-allegations-ministry

SANTA ANA — A retired priest with a history of abuse allegations is behind bars today on new charges that he molested a young boy in the rectory and sacristy of a Costa Mesa church in the 1990s.

Denis Lyons, 75, of Seal Beach is being held on $100,000 bail at Orange County Jail and is expected to be arraigned today on charges of molesting the victim when he was in second and third grade from January 1992 and December 1995 at St. John the Baptist Catholic School, according to the Orange County District Attorney's office.

Lyons assaulted the boy four times in the school's adjoining church, prosecutors said.

Lyons – who was removed from ministry in 2002 — was taken into custody while playing cards at a community center near his Seal Beach home Monday, prosecutors said.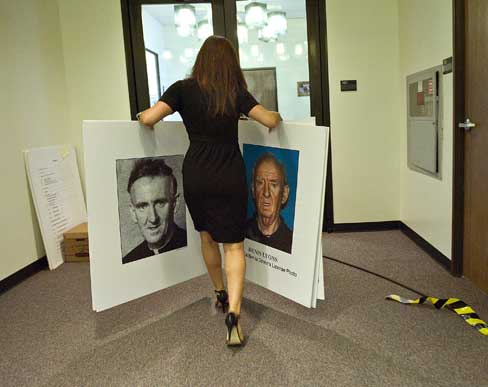 Amanda Leah takes away pictures of former priest Denis Lyons who was charged on July 21 by the office of Orange County District Attorney for molesting a 7-year-old boy more than a decade ago. Lyons, 75, of Seal Beach, was a priest with the St. John the Baptist Catholic Church in Costa Mesa.
Photo by Cindy Yamanaka


He has been charged with four felony counts of lewd conduct with a child younger than 14, along with a sentencing enhancement of committing substantial sexual conduct. If convicted of the charges, Lyons faces 14 years in prison.

Lyons has been criminally charged with molestation in the past.

In 2003, he was charged with molesting another male youth between 1978 and 1981 at St. John the Baptist. Prosecutors also accused him of assaulting two other male victims to corroborate that case.

But those charges had to be dismissed because of a U.S. Supreme Court ruling that invalidated prosecutions of some older sex crimes.

"Our community has waited a long time for justice as to this defendant," said Orange County District Attorney Tony Rackauckas at a news conference this morning.

Lyons, who now resides in the retirement community of Leisure World in Seal Beach, was pastor at St. John's when, in 1993, he admitted to inappropriate behavior with two adults in 1979.

The Diocese of Orange placed him into counseling, but then placed on administrative leave from the diocese in 2002 – when he was assigned to St. Edward Church in Dana Point. He was removed from ministry that year.

The priest has been a financial liability to diocese, which has paid out more than $4 million in settlements of sex-abuse claims since 2001.

The most recent settlement came in February, when the diocese settled a lawsuit brought by Jonathan Kirrer, 24, of Fountain Valley for an undisclosed amount.

Kirrer, a student at St. John the Baptist, alleged he was abused in 1994 and 1995. Kirrer claimed that Lyons abused him four times – twice in the parish rectory and twice in the church's sacristy.

He reported the abuse to Costa Mesa police soon after filing the lawsuit in March 2008. Lyons denied the allegations.

Prosecutors and Kirrer's lawyer, V. James DeSimone would not comment on whether Kirrer was the victim in this case. Typically, alleged victims in criminal cases remain anonymous unless they otherwise choose to identify themselves.

DeSimone commended prosecutors for bringing charges against Lyons, and also criticized the diocese for not removing Lyons from ministry sooner.

"There are many victims who have brought forth allegations against Father Lyons," DeSimone said.

He mentioned the case of Karl Romahn, a former Navy Seal who accused Lyons of molesting him and his brother in 1979.

Romahn came forward in 1994 and told Msg. John Urell of the allegations, DeSimone said.

The diocese ended up settling that lawsuit, he added.

"The diocese had credible allegations brought by two brothers who wanted nothing more than for Father Lyons not to harm other children," DeSimone said. "Several individuals could have been saved from having to go through what they did but the diocese turned a blind eye toward those allegations."

Ryan Lilyengren, a spokesman for the diocese, said today that Lyons "was removed from ministry April 24, 2002 and was committed to a life of prayer and penance. Rev. Lyons has not been permitted to return to ministry or the Diocese of Orange in any public capacity since his removal."

He added that the diocese cooperated with authorities in the investigation.

"We remain committed to ensuring the events of the past are never repeated and encourage all to pray for the victims of sexual abuse and their families," he said.

Lyons' three lawyers who handled the Kirrer lawsuit could not be reached.

Authorities ask other potential victims of Lyons to call them at: 714-754-5360 or 714-347-8558.