Priest Removed after Allegations of Sexual Abuse

By Charles Gazaway
WAVE
July 30, 2009

http://www.wave3.com/Global/story.asp?S=10820182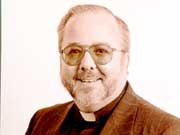 Fr. James R. Schook (Source: Archdiocese of Louisville)



LOUISVILLE, KY (WAVE) - The Archdiocese of Louisville has removed a parish priest from ministry after he was accused of sexual misconduct nearly 25 years ago.

Father James R. Schook, pastor of St. Ignatius Martyr at 1816 Rangeland Road, was placed on a leave of absence after the Archdiocese received information from an adult male who alleged that Schook had sexually abused him as teenager. According to a press release by the Archdiocese, their sexual abuse review board has examined the allegation and civil authorities have been contacted.

The congregation of St. Ignatius Martyr was informed of the move during a Sunday Mass lead by Archbishop Joseph Kurtz and by letter.

While on leave, Fr. Schook is prohibited from public ministry pending the outcome of the investigation. The Archdiocese has assigned Fr. Martin Linebach as temporary administrator of St. Ignatius Martyr.