Abp. Carlson Suspends Priest Arrested for Sex Charges

By Barb Watkins
St. Louis Review
July 30, 2009

http://stlouisreview.com/article/2009-07-30/abp-carlson-suspends-priest-arrested-sex-charges

"Abuse of any kind is always wrong."

That was the message of Archbishop Robert Carlson at a July 30 press conference at the Catholic Center, called shortly after the archbishop was informed of the arrest of an archdiocesan priest for recruiting a minor for sex.

On July 30 Father James P. Grady, pastor of St. Raphael the Archangel Parish in St. Louis Hills, was charged federally with recruiting a minor for a commercial sex act. Father Grady was arrested the evening of July 29 in an undercover operation by FBI agents and local law enforcement officers.

Later that day, shortly after learning of the charges, Archbishop Carlson announced that Father Grady was suspended from his duties as pastor of St. Raphael, pending the outcome of the investigation.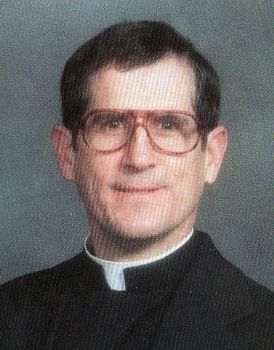 Fr. James Grady was arrested by the FBI for allegedly seeking sex from a minor.



"Obviously, if (the allegations) are true, Father Grady will never work again in the Archdiocese of St. Louis," the archbishop said at a late afternoon press conference July 30.

The archbishop said that he had personally gone over Father Grady's file and saw nothing "of this nature in it. And I am not aware of anything in his past."

Archbishop Carlson said he planned to go to St. Raphael Parish on Aug. 1 for the Saturday Mass and speak to the parishioners.

"I'm going for several reasons. Number one is the whole question of trust. If I had kids in that school, I'd be pretty upset. If the archbishop isn't concerned, who is?"

He said he wanted to speak with the parishioners and invite anyone who might have any information to come forward.

The archdiocese is contacting the St. Raphael community, Archbishop Carlson said at the press conference, as well as other parishes where Father Grady served.

"I want people to be aware of the charges. And if anyone has any information that he wants to bring to my attention, I want people to be aware that I would be interested."

The archbishop also stressed that he wanted the priests of the archdiocese to understand "I know that the vast majority of them are doing excellent work. This is a black eye for all priests."

Archbishop Carlson said he was notified of the arrest around 9 a.m. July 30 by the archdiocesan vicar for priests and told of the charges around 2:30 p.m.

"The FBI has not talked to me," he said.

Father Grady, who has been the pastor at St. Raphael for four years, was a pastor and associate pastor at a number of archdiocesan parishes since his ordination in 1977.

The archbishop said that the archdiocese's Safe Environment program to prevent child sexual abuse had been in place "long before I got here."

"We try to do everything we possibly can to make sure this never happens. And when it happens, you have to be very pro-active," he said.

"We're looking at a federal crime here. That's a serious thing," Archbishop Carlson said. And even more, "a serious fracture in the trust relationship. You can break a trust relationship in seconds, and it can take years to build it up again."

He said a temporary administrator will be appointed at St. Raphael soon.

Archbishop Carlson acknowledged that the Church has been dealing with the abuse issue for a number of years.

"This is a setback. We have to ask ourselves, what more should we be doing that we haven't done?"