Ex-priest Faces Sex Abuse Charges

BBC News
August 8, 2009

http://news.bbc.co.uk/2/hi/uk_news/england/west_midlands/8191117.stm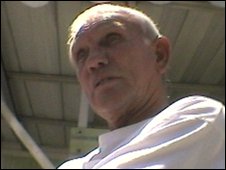 James Robinson was charged after arriving at Heathrow Airport on Friday



A former Roman Catholic priest has been extradited to the UK from the US to face allegations of sexually abusing young boys up to 50 years ago.

James Robinson, 71, was returned to the UK on Friday and has been charged with 22 offences alleged to have been committed between 1959 and 1983.

Mr Robinson, who moved to California in the mid 1980s, is known to have worked in Birmingham and Coventry.

He has been remanded in custody by magistrates in Birmingham.

'Co-operated with police'

Mr Robinson faces a series of charges, including indecent assault, indecency against a child and serious sexual assault.

He is due to appear at Birmingham Crown Court on 3 November.

A police spokeswoman said Mr Robinson was successfully extradited from the US on Thursday and arrived at Heathrow Airport on Friday.

She said: "He was brought straight to a police station in Birmingham, where he was charged yesterday afternoon.

"The charges relate to alleged sexual offences against young boys between 1959 and 1983."

A spokesman for the Roman Catholic Archdiocese of Birmingham said it had co-operated fully with the police and would continue to do so.

"As this case is now the subject of legal proceedings, it is not possible or appropriate for the archdiocese to make any detailed comment at this time," a spokesman said.