Salesians Settle Sex-Abuse Claim with 3 Men

By Gary Stern
Journal News
August 9, 2009

http://www.lohud.com/article/2009908090331

The Salesians of Don Bosco have agreed to pay a financial settlement to three men who say they were sexually abused by the Rev. Richard McCormick, a former head of the religious order for the eastern United States and a former director of the Marian Shrine in Stony Point.

Three other men also have come forward in recent weeks to accuse McCormick of abuse, according to a prominent Boston lawyer who negotiated the settlement with the Salesians.

The Salesians' Eastern Province, which includes all Salesian activities and personnel east of the Mississippi River and throughout Canada, is based in New Rochelle. The Salesians would not say whether McCormick, 68, is currently residing in New Rochelle or elsewhere.

In a statement released yesterday, the Rev. Thomas A. Dunne, the provincial, or head, of the Eastern Province, said: "The Salesians are saddened by the allegations of inappropriate behavior by Fr. McCormick. In accordance with our policy, the Salesian Society has suspended Fr. McCormick from public ministry and unsupervised contact with minors pending review of the matter by our Provincial Review Board."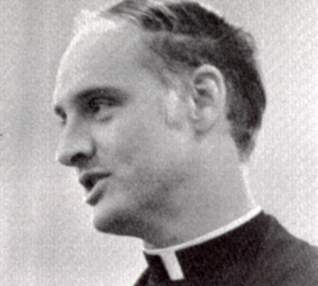 The Rev. Richard McCormick, a former head of the religious order for the eastern U.S. and a former director of the Marian Shrine in Stony Point



The statement did not say when that review might take place.

About the financial settlements, Dunne wrote: "The Salesians settled claims brought against Fr. McCormick, neither admitting nor denying liability, in order to avoid the uncertainties and costs of litigation."

The Salesians chose not to answer additional questions.

Mitchell Garabedian, the Boston lawyer who has represented more than 600 alleged victims of clergy sex abuse and led the case against the infamous former Boston priest John Geoghan, said McCormick's accusers are most concerned that McCormick not be allowed to abuse minors in the future.

"My clients allege they were sexually molested by Father McCormick, and one would hope the Salesian order would take the appropriate moral steps and protect children from him - no matter how high up on the authority ladder Father McCormick was or is," Garabedian said.

The three men who have settled with the Salesians say they were abused during the late 1970s when they were students at the now-closed Salesian Junior Seminary in Goshen, N.Y., where McCormick served as director for several years.

One man says he was improperly touched and emotionally manipulated by McCormick. A second says he was fondled by McCormick and molested by a relative of McCormick's while in McCormick's care. The third says he was also molested by the relative.

Each of the three men has received a "six-figure" settlement, Garabedian said.

"I came forward because I want justice," said Fred Quagliana, 46, a New Jersey resident who is one of the three to settle. "I wanted to be heard and I wanted it acknowledged that this happened to me. I don't think I'll ever find a resolution to this, but I'm just looking for healing."

Quagliana went to Salesian summer camps as a child and first visited the junior seminary in Goshen when he was about 7. He thought he wanted to become a Salesian himself and studied in Goshen from 1977 to 1980.

When he was a 14-year-old sophomore, he said, he went to McCormick to discuss some typical adolescent problems. McCormick took him into a back office and fondled him, he said.

"I trusted him," Quagliana said. "He was very charismatic and fatherly. I just stood there, silent. I was in shock."

Two years later, Quagliana said, McCormick took him and two classmates to a relative's home, where he was molested by the relative during the night. Back at the seminary, Quagliana said, he told McCormick what had happened and McCormick told him not to tell anyone.

After Goshen, Quagliana entered the Salesian major seminary in Newton, N.J. He said that McCormick came to Newton and told him that being molested by his relative "was probably the best thing that ever happened to me. He said that I could mature psycho-sexually."

Quagliana left the major seminary after only seven months.

He has suffered from depression and several illnesses since then.

"I feel that it stems from what happened to me," he said. "When you're abused, it infiltrates every fiber of your being."

Quagliana told his mother, his therapist and a few friends about the abuse during the 1980s. Two years ago, he confronted McCormick at a Salesian retreat house in West Haverstraw.

"He told me that he never touched any boy except with respect," Quagliana said.

Last year, Quagliana contacted the Survivors Network of those Abused by Priests, which put him in contact with Garabedian. Within months, he met in Boston with several Salesian leaders, who offered a general apology for any harm done to him but said nothing about McCormick's actions.

A settlement was offered recently - with no further apology or statement.

"I feel somewhat vindicated, but I want him to be completely out of ministry," Quagliana said.

A second man who received a settlement also said he was molested by a relative of McCormick's while in McCormick's care, Garabedian said.

The third man - who does not want to be identified - said he was abused by McCormick while he was 14 and 15 years old and studying at the Goshen seminary.

"Over a long period of time, there was inappropriate touching, long hugs, kisses, sitting on his lap," the man said.

This man, who currently works for a Catholic diocese, said McCormick played with emotions of teenage students, pitting them against one another to be his favorites.

"He manipulated immature minds," the man said. "He acted differently when he was alone with you. His manipulation was masterful. It was a physical and spiritual betrayal, far from Don Bosco's example."

He said that McCormick would not even speak to many students after they left the junior seminary.

"It was very strange, all connected to the abuse," he said. "I do not believe these settlements will stop this man."

In 2002, McCormick resigned from teaching at St. Petersburg Catholic High School in Florida after a female student complained that he greeted her with a kiss and hug in a school hallway.

McCormick served as provincial of the Eastern Province during the early 1990s. He was director of the Marian Shrine from 1983 to 1985 and directed a program for Salesian lay missioners during the late 1980s.

McCormick could not be reached for comment.

Quagliana, who maintains contact with many in the Salesian community, said he thinks the order has been reluctant to address allegations against McCormick because of his status as a former provincial.

"It would have been over long ago if he wasn't a provincial," he said.

The Salesians are the second-largest Catholic religious order in the world, founded by St. John Bosco, an Italian priest, in 1859 to serve poor and abandoned children. The order has faced several sex-abuse scandals around the world in recent years, but its leaders have disputed allegations that abusive priests have been moved from country to country to avoid investigations.

Last year, the Salesians' Western Province agreed to pay $19.5 million to 17 alleged victims of abuse.

Last month, when Dunne was installed at Salesian High School in New Rochelle as the new provincial of the Eastern Province, he said in his homily that the order must reach out to those who have been abused by Salesians.

"We sincerely apologize to those in whom we have caused pain and suffering in this way," he said. "Furthermore, we commit ourselves to continuing the preventative policies that have characterized our service to the young in the more recent years. Unfortunately, we cannot undo the past."

In his statement yesterday, Dunne wrote that the Salesians have received accreditation from a private group, Praesidium Inc., for achieving "the highest standard" in child-abuse prevention.

"We renew our commitment to creating safe environments for all young people in our care moving forward," Dunne wrote.