Missouri Lawsuit Settled for $600k in Case of Former Priest Who Admitted to Molesting a Boy in Jersey City

By Jeff Diamant
The Star-Ledger
August 13, 2009

http://www.nj.com/news/index.ssf/2009/08/missouri_lawsuit_settled_for_6.html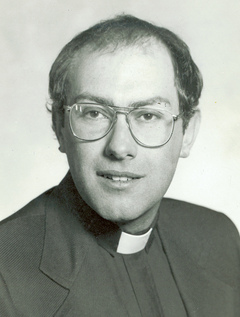 The Rev. Carmine Sita is pictured in a photo from 1976, when he began his career at St. Aloysius in Jersey City.



In 1983, after admitting in court that he sexually assaulted a teenage boy, the Rev. Carmine Sita of St. Aloysius Church in Jersey City was sentenced to five years of probation. He was also told to visit a treatment center for priests in New Mexico.

Sita stayed at the center. But soon afterward, he was not Carmine Sita anymore.

At age 38, he legally changed his name to Gerald Howard and was allowed to become a parish priest in Boonville, Mo., in the Diocese of Jefferson City, church officials said. Within a year, he had begun abusing another teenage boy, according to lawyers for that person, who is now in his late 30s and living in Virginia.

The story came to light today at a press conference in Missouri, where lawyers for the second accuser, whose name was not made public, announced a $600,000 settlement for their client.

The Newark Archdiocese and the Jefferson City Diocese each paid $225,000 toward the settlement. The treatment center, run by the Servants of the Paraclete religious order, paid $150,000, according to a copy of the settlement made available by lawyers for the accuser. Howard is no longer a priest in the Missouri diocese.

Newark Archdiocese officials acknowledged they kept track of the priest for more than 20 years. They said they did not learn of the Missouri allegation until 2007, when it was first reported, but knew he had changed his name and had worked as a priest in Boonville after his conviction.

James Goodness, a spokesman for Newark Archbishop John J. Myers, said the archdiocese in 1983 informed the New Mexico center about the priest's past, but that it is unclear whether archdiocese officials told anyone in the Jefferson City diocese.

Had the case occurred today, the Newark Archdiocese would have handled it differently, Goodness said.

"At the time, some experts felt that someone (priests who had molested a minor) could return to ministry," he said. "We now know that that's wrong."

In 2002, in the wake of widespread revelations of cover-ups of sex abuse by priests, Catholic bishops in the United States resolved to remove abusive clergy from ministry after even one instance of abuse of a minor, and to be open with parishioners about priests who had sexually abused minors.

Howard could not be reached for comment today. Goodness said the archdiocese knows his whereabouts, but he would not reveal them.

Goodness said that in 1983, after the priest was convicted, the archdiocese "provided the Servants of the Paraclete with all information concerning Sita's situation." He said the priest sought assignment in Jefferson City in 1983 after his time at the treatment center and was assigned to SS. Peter and Paul, in Boonville, by Bishop Michael McAuliffe, then head of the Jefferson City diocese. McAuliffe died in 2006.

"We do not know why Bishop McAuliffe agreed to accept the priest or exactly what he knew of this priest's background at the time," Goodness said.

Officials with the Jefferson City Diocese and the Servants of the Paraclete did not return phone calls today.

Bryan Bacon, a lawyer for the Missouri victim, said the Jefferson City Diocese removed Howard from the ministry 18 months after he started, for an unrelated infraction.

David Clohessy, executive director of Survivors Network for those Abused by Priests, an advocacy group for victims, said the church handled the case badly when it let Howard return to the priesthood and then compounded the damage by not alerting the public to his identity upon learning about the allegations from Missouri, which were first reported in 2007.

"Going back to the mid-1980s, he should have never been allowed to be in a parish. He should never have been allowed to change his name," Clohessy said. "At a bare minium, if they did decide to put kids at risk again in Boonville, Missouri, there should have been some warning to the public and parishioners so people could decide for themselves whether they felt comfortable with their kids around a convicted predator."

As part of the settlement, the Newark Archdiocese is pursuing Howard's formal removal from the priesthood. Goodness said although he voluntarily left ministry in the mid-1980s and has not worked in a church since, he is still on the diocese's official roster of priests.

The recipient of the $600,000 was not at the press conference and declined to comment through his attorneys, who said he lives with his wife and a child in Virginia.

Bacon said his client met the New Jersey victim in the 1980s, on a visit arranged by Howard, and with the priest present. He said he believes, after speaking with his client, that the priest "used it as a way to make the Boonville victim jealous, and sort of make him more of a willing participant in the abuse."

Bacon said his client's abuse lasted about five years, until he went to college in 1988. At one point during that time, Bacon said, the priest told his client the New Jersey victim had committed suicide. The Star-Ledger was unable to confirm that today.