Former Jersey City Priest Who Admitted Molesting Teen Accused of Sexual Abuse in Missouri

By Ron Zeitlinger
The Jersey Journal
August 13, 2009

http://www.nj.com/news/index.ssf/2009/08/priest_guilty_of_molesting_tee.html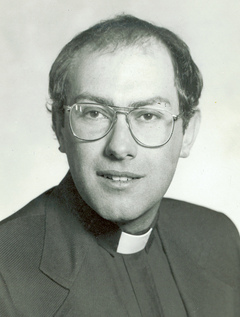 The Rev. Carmen Sita is pictured in 1976 photo, when he began his career at St. Aloysius in Jersey City.



A Catholic priest, the Rev. Carmen Sita, who pleaded guilty in 1983 to molesting a teenage boy while at a Jersey City parish is at the center of a $600,000 settlement in the alleged molestation of a boy less than a year later in Boonville, Mo.

The Survivors Network of those Abused by Priests (SNAP), a support group for clergy sex-abuse victims, are holding two news conferences in Missouri to announce the settlement. It's believed to be one of the largest pedophile priest settlements in Missouri, SNAP officials said.

A year and a half ago, a man, now in his 30s and living in Roanoke, Va., reported to Missouri church officials that he was sexually abused by the Sita, SNAP officials said. But authorities in three church institutions -- the Newark Diocese, where his career began, the Jefferson City diocese, and a St. Louis-based religious order, the Paracletes -- kept silent about his report, SNAP officials say.

Sita served at the St. Aloysius parish on West Side Avenue in Jersey City from 1976 to 1982.

David Clohessy, the national director of SNAP, is also critical of the church for not alerting people in the Jefferson City Diocese about Sita's guilty plea in Jersey City.

In that case, Sita was charged with "an act of penetration with a male juvenile on diverse dates" and "distribution of a controlled dangerous substance to a minor," in Sept. 15, 1982, according to the criminal complaint. The boy was 17 years old at the time.

In January 1983, Sita pleaded guilty to sexual assault on the boy and was sentenced to five years probation and sent to a church-run counseling center, Foundation House-- in Albuquerque, N.M.

SNAP claims that less than a year later Sita legally changed his name to Gerald Howard was assigned to the Jefferson City Diocese and molested again.

"He was clearly molesting again at his earliest opportunity," Clohessy said. "It is extremely callous, reckless and deceitful on the part of the church that it kept silent."

Clohessy said the Newark Archdiocese, the Jefferson City diocese and Paracletes were all contributing to the settlement, but did not know how much was paid by each. A phone call to the Newark Archdiocese has not been returned and the archdiocese's lawyer in the case, Charles M. Carella, refused to comment.

At a third news conference today in St. Louis, victims will urge the Paracletes to disclose the names of other convicted predators they have housed and released, Clohessy said. SNAP is also urging anyone who saw, suspected or suffered his crimes to get help and call police, so that he might be prosecuted and so that kids might be better protected.

SNAP said that Sita remains a priest, though he's allegedly not working in a parish and his whereabouts are not known. As part of the settlement, the victim insisted that church officials begin defrocking Howard.

"So it's obvious that self-serving and secretive Missouri and New Jersey Catholic officials deliberately deceived their own flocks and basically threw trusting families in the path of a known felon, just to protect themselves and their reputations," Barbara Dorris, the SNAP outreach director said in a statement. "And they continue to deceive their flocks even now. Shame on each of them. Their irresponsible behavior is proof that very little has changed within the corrupt church hierarchy."