Former Priest Pleads Guilty, Could Get 18 Months for Touching Elyria Teen

By Brad Dicken
The Chronicle-Telegram
September 16, 2009

http://chronicle.northcoastnow.com/2009/09/16/former-priest-pleads-guilty-could-get-18-months-for-touching-elyria-teen/

ELYRIA — A former local Catholic priest pleaded guilty Monday to a sex charge alleging he had sexual contact with a teenage boy 12 years ago.

Patrick O'Connor, 51, pleaded guilty to a single count of corruption of a minor as part of a plea agreement that could end up with him serving 18 months in prison. O'Connor had originally been charged with sexually battery, a crime that could have sent him to prison for five years.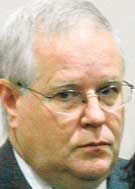 O'Connor



Lorain County Common Pleas Judge Mark Betleski, who will sentence O'Connor later this year, said the plea agreement didn't contain a specified sentence.

Instead, prosecutors and O'Connor's attorneys will argue whether he should be incarcerated.

The plea deal also calls for O'Connor to register as a sex offender every six months for the next 25 years.

O'Connor was indicted late last month after an investigation of more than a year into allegations that he had touched the boy — now in his late 20s — during the summer of 1997.

The victim came forward to the Catholic Diocese of Cleveland in June 2008, and the allegations were turned over to Lorain County Prosecutor Dennis Will.

O'Connor was a priest at St. Jude Church in Elyria in 1997 and also once served as Elyria police chaplain.

The victim in the 1997 case wasn't a parishioner, but rather a boy from the neighborhood whom O'Connor knew, according to prosecutors.

O'Connor resigned from the priesthood after the allegations surfaced last year. He had been working as chaplain to the Sisters of the Most Holy Trinity and Our Lady of Lourdes Shrine, both in Euclid, jobs that were deliberately designed to keep him away from children.

O'Connor had been on administrative leave from the church from 2003 through 2007 while the Diocese investigated earlier sex abuse allegations from when he was a priest at St. Joseph Church in Cuyahoga Falls during the 1980s.

O'Connor resigned as Elyria police chaplain when those allegations came to light, but he was later cleared of wrongdoing by a diocese review board.

He remains free on bond.

Contact Brad Dicken at 329-7147 or bdicken@chroniclet.com