New Sex Abuse Claims against Fmr. Miami Priest

CBS 4
September 30, 2009

http://cbs4.com/local/father.neil.flemming.2.1218409.html

[with video]

MIAMI (CBS4) — The Archdiocese of Miami is named in two new lawsuits filed by men who claim they were sexually molested by South Florida priests more than forty years ago.

According to one of the men's suits in 1966 when he was only 14-years-old his mother was urged to send him to Boystown after he got into some trouble. The man claims his mother was told to bring her son to Father Neil Flemming who would take him to the Boystown organization in West Kendall which housed and educated at risk children. The man's claim after his mother dropped him off with Flemming, the priest repeatedly molested him for two days in the rectory.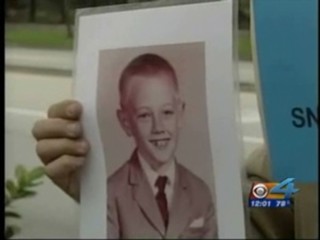 Photo by CBS


After turning 18, the man said he sought counseling from the Miami Archdiocese for the pain he felt from Flemming's abuse. He claims he was told to meet with Fr. Neil Doherty who reportedly drugged and assaulted him. According to the support group Survivors Network of those Abused by Priests documents in Doherty's personnel file show that the Archdiocese had known since the early 1970s that Doherty had been drugging and sexually assaulting teenagers. In the early 1990s they sent Doherty to treatment. Over the years, Doherty has faced a number of child sex abuse lawsuits.

In the second suit, the man claims when he was a boy he was sent to live at Boystown (in 1965) after both of his parents died. While there he claims Flemming took him on an overnight trip to a home in West Palm Beach, gave him liquor and insisted that they share a bed. During the night, Flemming masturbated the boy, and tried to make the boy masturbate him in return.

"Just imagine what it was like for those kids to live through it," said attorney Jessica Arbour. "It's a nightmare that no parent, no child, no victim should ever have to live through and it's a scar that these men have had to bare too long."

One of the men is now 60-years-old with adult children. The other is 57-years-old with no children. Both are married and live out of state - one in Texas and one in North Carolina.

In response to the lawsuits, the Archdiocese of Miami issued the following statement:

Both Father Neil Doherty and Father Neil Fleming retired in 2002 without faculties; they are not permitted to wear clerical garb, celebrate the sacraments or have an assignment.

Pastoral, psychological and spiritual counseling is offered to anyone who comes forward; in addition, law enforcement officials are notified and the allegations are reviewed by the Archdiocesan Review Board.

The Archdiocese of Miami offers to assist anyone who has been a victim of abuse by a member of the church.

The Archdiocese urges anyone who has been a victim of sexual abuse by a member of the clergy or church personnel to contact the Archdioces' Victims Assistance Coordinator at 1-866-802-2873 or contact local law enforcement department.