Priest Abuse Trial Opens in Burlington

By Sam Hemingway
Burlington Free Press
September 30, 2009

http://www.burlingtonfreepress.com/article/20090930/NEWS02/90929025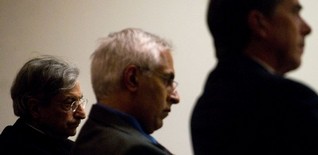 Bishop Salvatore Matano and diocese attorneys Kaveh Shahi and Tom McCormick (from left) listen Tuesday to the opening statement of Jerome O'Neil, attorney for the plaintiff, at the start of a priest abuse trial in Superior Court in Burlington.
Photo by RYAN MERCER, Free Press


A lawyer for the state's Roman Catholic diocese conceded Tuesday that the church made a mistake letting the Rev. Edward Paquette work as a parish priest in Vermont in the 1970s, but did so based on advice it got from doctors at the time.

"Facts are stubborn things," attorney Thomas McCormick told jurors during his opening statement in the latest priest molestation case to go to trial in Burlington.

McCormick also said the approach to treating pedophiles like Paquette is much different now than it was 35 years ago. "As you hear the evidence, I'll ask you to pay attention to the clues that indicate how different the times were," he told the jury.

The case involves claims by a former altar boy that he was molested by Paquette at Christ the King Church in Burlington. He is suing the diocese, not Paquette, claiming it is to blame for the abuse because it hired Paquette knowing he was a pedophile.

Jerome O'Neill, the former altar boy's attorney, argued in his opening statement that there is no way to justify the decision to hire and retain Paquette. He said the diocese ignored evidence that Paquette had molested boys in three states, including Vermont, before his assignment to the Burlington church in 1976.

"When the head of the diocese learns that a priest has sexually molested children, he must do something to remove the priest from the parish and not supply the priest with new opportunities to use his position as priest to molest more children," O'Neill said.

O'Neill said the former altar boy, now 44 and still a Burlington resident, was 11 years old when Paquette molested him inside the sacristy at Christ the King Church between 20 and 25 times in the late 1970s. The diocese does not dispute the abuse occurred.

O'Neill said his client has struggled with alcohol, drug and other problems over the years as a result of the abuse. The Free Press does not identify the names of alleged sexual abuse victims without their consent.

"It always happened with another boy present," O'Neill said, describing the molestation incidents. "Some of the time when there were two altar boys there, (Paquette) would reach over and fondle the two of them at once."

Ex-priest apologizes for abuse

Priest abuse trial starts

The former altar boy looked down at his lawyers' table but remained composed during O'Neill's recounting of the abuse.

Tuesday's proceedings mark the fifth time a case alleging priest molestation of altar boys has gone to trial before a Chittenden Superior Court jury, and the fourth involving claims of child sexual abuse by Paquette.

Two cases tried in 2008 ended with multi-million dollar verdicts against the diocese that are now on appeal before the Vermont Supreme Court. A third ended in a mistrial. In all, 23 former altar boys with claims that Paquette molested them have sued the diocese.

Paquette, now retired and living in Westfield, Mass., was suspended by the diocese in 1978 after parents in Burlington complained about his conduct with boys. He was laicized, or defrocked, by the Vatican this year.

In a Free Press interview last week, Paquette said he regretted his conduct and was praying for the victims and their families.

McCormick, in his opening statement, said there is evidence that Paquette misled his doctors — and the diocese — about his treatment, allowing them to think nothing was wrong when he was actually molesting boys.

"He was lying to the medical professionals," McCormick said. "He was not only a pedophile. It appears he was also a liar."

Later Tuesday, jurors were shown a videotaped deposition, or formal interview, of Monsignor John McSweeney, who as the diocesan chancellor in 1972 assisted then-Bishop John Marshall in the decision to hire Paquette in 1972.

In the deposition, McSweeney was asked about letters he handled that contained details about Paquette's sexual abuse of boys at parishes in Massachusetts and Indiana.

"I do not remember this making any impression on me," he said of one of the letters in response to a question from O'Neill.

O'Neill then asked McSweeney if as chancellor he could have advised Marshall to look more deeply into Paquette's background.

"I could have, but I apparently didn't," McSweeney responded. "I did the work the bishop asked me to do."

The trial resumes at 9 a.m. today.

Contact Sam Hemingway at 660-1850 or e-mail at shemingway@bfp.burlingtonfreepress.com. To have Free Press headlines delivered free to your e-mail, sign up at www.burlingtonfreepress.com/newsletters.