Bishop: Hiring Paquette Was "Wrong"

By Sam Hemingway
Burlington Free Press
October 6, 2009

http://www.burlingtonfreepress.com/article/20091006/NEWS02/91005009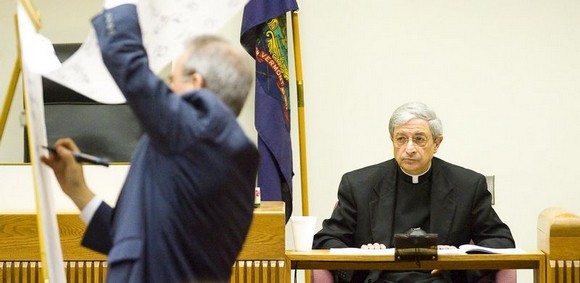 Bishop Salvatore Matano (right) is questioned by plaintiff's attorney, Jerome O'Neill, in a priest sex abuse case in Chittenden Superior Court in Burlington on Monday.
Photo by GLEN RUSSELL, Free Press


Bishop Salvatore Matano said the state's Roman Catholic diocese made a mistake 37 years ago when it hired the Rev. Edward Paquette, the priest accused of molesting nearly two dozen boys during a six-year stint in Vermont.

"It was a wrong decision, and I would not have made that decision," Matano told a Burlington jury Monday. "Father Paquette was not suitable for ministry in this diocese."

Matano's testimony marked the first time he has spoken in open court about the Paquette matter. The case at trial involves claims by a former Burlington altar boy that Paquette fondled him between 20 and 25 times between 1976 and 1978.

In a contentious exchange with Jerome O'Neill, the former altar boy's attorney, Matano sidestepped questions about whether the diocese acted irresponsibly or needlessly put children at risk by hiring Paquette, knowing he had a history of molesting boys.

"I am not prepared to say it was a responsible act," Matano acknowledged at one point.

The former altar boy, now 44, is suing the diocese on grounds it knew Paquette had molested boys in three states, including Vermont, before being assigned to Christ the King Church, where the abuse involving the former altar boy took place.

The case is one of 23 lawsuits filed at Chittenden Superior Court alleging abuse of altar boys by Paquette. The Free Press does not publish the identities of victims of sexual abuse without their consent.

The diocese admits the abuse occurred but claims it relied on the advise of church-connected psychologists and counselors who thought Paquette's "homosexual" behavior had been cured. Paquette is not a defendant in the case.

"He had gone through any number of counselings, therapies and psychological evaluations, and the hope at the time was that he could be cured," Matano said.

At one point Matano grew emotional when O'Neill tried to get him to agree there was no excuse for putting a person who had committed a crime back into a position to repeat that crime.

"I absolutely am sorry for what happened ... and would not have accepted Edward Paquette into this diocese," Matano said, his voice growing louder as he spoke. "I was not ordained a priest nor did I become a bishop to put children at risk."

"Why did it happen?" he asked. "What was in the mind of Bishop (John) Marshall at that time I simply do not know. I wish Bishop Marshall could be here himself and say why he made this decision. I can't enter into the mind of a dead man."

Marshall was ordained the diocese's bishop in 1972, and hiring Paquette was one of his first acts. Marshall served as the bishop in Vermont until 1992; he died in 1994.

O'Neill asked Matano if he was sorry about the abuse suffered by the former altar boy, or sorry that the diocese had permitted it to happen.

"I am sorry, and so is the diocese," Matano answered, looking at the former altar boy seated at O'Neill's table. "In the name of the diocese I am sorry. I am sorry for the decision this diocese made. I am sorry for the consequences that resulted from this decision."

Matano said he laments the former altar boy's subsequent alienation from the church and later struggles with alcohol and drug abuse. The former altar boy testified last week the molestation had destroyed his trust in priests, whom he had viewed as agents of God.

"That is perhaps the greatest tragedy of this whole situation, that these victims are no longer part of the faith community and that they are estranged from the church," Matano said.

Lawyers for the former altar boy rested their case late Monday afternoon. The trial, now in its second week, is scheduled to resume this morning at 9.

Contact Sam Hemingway at 660-1850 or e-mail at shemingway@bfp.burlingtonfreepress.com. To have Free Press headlines delivered free to your e-mail, sign up at www.burlingtonfreepress.com/newsletters.