Jury Awards $2.2 Million to Former Altar Boy

By Sam Hemingway
Burlington Free Press
October 10, 2009

http://www.burlingtonfreepress.com/article/20091010/NEWS02/91010007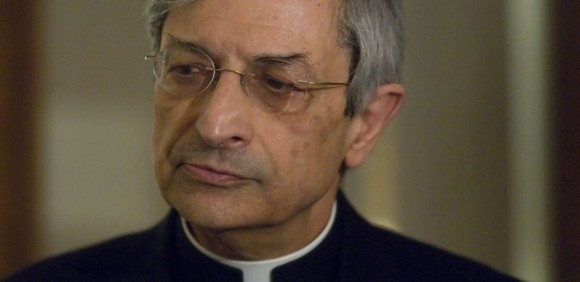 Bishop Salvatore Matano takes questions outside Chittenden Superior Court in Burlington after a jury awarded a plaintiff $2.2 million in compensatory damages but awarded nothing in punitive damages.
Photo by RYAN MERCER, Free Press


A jury awarded $2.2 million in damages Friday to another altar boy molested by the Rev. Edward Paquette in the 1970s, increasing the amount the state's Roman Catholic diocese might have to pay for Paquette's misconduct to nearly $16 million.

"He feels vindicated," attorney Jerome O'Neill told reporters after the verdict was announced, describing the reaction of his client to the decision. "He feels like he was believed."

• Photo gallery: More images from Friday's judgment against the Vermont diocese

The former altar boy, now 44, claimed Paquette molested him 20 to 25 times at Christ the King Church in Burlington between 1976 and 1978, causing him later in life to struggle with mental problems and drug and alcohol abuse.

He sued the diocese in 2005, alleging it was to blame for his troubles because it knew Paquette had molested boys in three states, including Vermont, before assigning him to the Burlington church and placing him in a position to abuse more boys.

The Free Press does not publish the names of alleged sexual-abuse victims without their consent.

Paquette, who is retired and lives in Westfield, Mass., is not a defendant in the case.

Friday's verdict differed from what juries did in two previous Paquette cases. In those instances, now under appeal before the Vermont Supreme Court, most of the money was awarded in punitive damages. In one of them, the punitive-damage award alone was $7.75 million.

In this case, the entire $2.2 million was in compensatory damages, with no money for punitive damages, suggesting the jury did not believe the diocese should be punished in the case. Under legal doctrine, compensatory damages are designed to compensate a person for injuries suffered, while punitive damages are meant to punish the entity responsible for injury so it doesn't happen again.

The results for the diocese, however, are the same — another verdict that could eventually challenge the church's ability to remain financially viable.

"It would be less than realistic to say these kinds of verdicts do not have the potential for very serious impact" on the diocese, Bishop Salvatore Matano said outside the courtroom, moments after the jury's verdict was announced Friday afternoon.

Diocese attorney Thomas McCormick said he was "grateful" the jury did not award any money in punitive damages. "We now have a ruling from a jury that punitive damages are not applicable on a specific Paquette case," he said.

McCormick, however, appeared taken aback by the size of the compensatory award, larger than the compensatory awards in the two earlier Paquette verdicts.

"It's disappointing," he said. "It's much higher than other juries have found for victims."

The trial in this latest Paquette case was the first in which the complex issue of the statute of limitations was decided by the jury instead of the judge. Seventeen Paquette-related lawsuits are pending in Chittenden Superior Court.

The statute of limitations means a lawsuit can been voided if it can be shown the person alleging long-ago harm did not pursue legal action within a certain time period after realizing the problems caused by the harm.

The jury, in its verdict, said the former altar boy did not come to his realization about the diocese's role in the abuse until late 2004 and 2005. Because of that, jurors found the case was not time-barred, even though the abuse itself took place more than 30 years ago.

"This shows that when the jurors get the information on statute of limitations, they have no trouble coming to a decision," O'Neill said. "These were young kids. When this was done to them, they had no idea the diocese was in on it all the way along."

Matano said he hopes the church and attorneys for the former altar boys can somehow settle the cases that remain, saying the trials are painful for everyone. The diocese does not dispute that the molestations occurred.

"It is my hope we can resolve these cases in a truly charitable and equitable manner," he said. "That we are on opposite ends of the courtroom is very painful. This is not what the role of a bishop is about. I am called to be a shepherd and to unite the flock."

O'Neill cited the diocese's 2006 move to put $400 million of its assets in trusts to protect them from being used to pay jury verdicts like the one Friday as proof Matano's appeal for a fair resolution is not sincere.

"It's the usual all talk and no action," he said. "Our clients are very reasonable people. We don't buy it, and we don't think our clients should."

O'Neill hinted that he plans to appeal the jury's decision not to award punitive damages, saying Judge Helen Toor had wrongly excluded evidence allowed by judges at previous trials that would have bolstered his argument for punitive damages.

Contact Sam Hemingway at 660-1850 or e-mail at shemingway@bfp.burlingtonfreepress.com. To have Free Press headlines delivered free to your e-mail, sign up at www.burlingtonfreepress.com/newsletters.