DeLuca, Diocese Accused of Destroying or Hiding Evidence

By James Merriweather
The News Journal
October 15, 2009

http://www.delawareonline.com/article/20091015/NEWS01/910150349/DeLuca--diocese-accused-of-destroying-or-hiding-evidence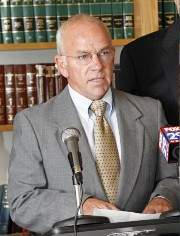 John Vai, 57, says he was abused by defrocked priest Francis DeLuca.



DOVER -- Attorneys for John Michael Vai, who is pressing a case against the Catholic Diocese of Wilmington and one of its former priests for sexual abuse, argued Wednesday that the defendants destroyed or hid evidence central to their client's case.

Thomas S. Neuberger, one of Vai's attorneys, argued before Superior Court President Judge James T. Vaughn Jr., that the only remedy for the lost evidence is to enter a judgment against the defendants.

Vai, 57, claims he was sexually abused by the now-defrocked priest, Francis G. DeLuca, 79, who served in the diocese for 35 years before he was allowed to retire to his hometown of Syracuse, N.Y., in 1993. The abuse is alleged to have happened when Vai was an altar boy at Wilmington's St. Elizabeth Church from 1966 to 1970.

A trial of his personal injury lawsuit against DeLuca and the diocese is set to begin Monday in Kent County Superior Court.

Neuberger and his co-counsel, Thomas Crumplar and Louis Donofrio, represent all 21 victims in sexual abuse cases featuring DeLuca as a defendant. One of the cases has been settled, another was filed in federal court and Vai's case is the first among 19 pending in Kent County Superior Court to reach trial.

Vaughn heard just over 2 1/2 hours of arguments Wednesday before cutting off the hearing to allow lawyers to attend the funeral of former Bishop Michael Saltarelli. Arguments will resume at 9 a.m. today.

The main focus of Wednesday's argument was a diary kept by DeLuca, who was convicted in 2007 of sexual abuse of a child in Syracuse. According to arguments on a raft of motions from both sides, the diary was destroyed in 2006 as DeLuca moved in with his sister. Vai's attorneys intend to offer as evidence a photo album compiled by DeLuca that features images of boys, including Vai, on the beach and in hotel rooms.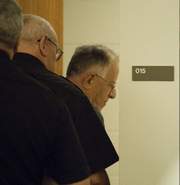 Francis DeLuca was convicted in 2007 of sexually abusing a child in Syracuse, N.Y.



DeLuca's attorney, Stephen P. Casarino, said there was no evidence that the diary, destroyed along with other personal items that DeLuca no longer had space for, contained incriminating evidence that might bolster Vai's case. He also disputed Neuberger's claim that the diary should have been reserved as evidence under "litigation hold" requirements, noting the diary was destroyed the year before the Delaware Child Victims Act of 2007 was enacted to open a two-year window for the filing of sexual abuse cases that otherwise would have been barred by statutes of limitation.

Vai's lawsuit was filed on June 20, 2008, and DeLuca was added to the defendants list on Oct. 8, 2008.

"How was a man to know, unless somebody told him, that he needed to save these documents," Casarino said.

Neuberger argued that culpability for the "litigation hold" breach extended to the diocese, which had allowed DeLuca to move to New York as allegations of sexual abuse against him were raised in Delaware. He said DeLuca remained a "part-time employee" of the diocese and that he and his diary remained under diocese control.

He also faulted Monsignor Thomas J. Cini, who runs the diocese's day-to-day affairs, for destroying handwritten notes taken while interviewing men who claimed abuse by diocese priests -- including a "John Doe" who entered a confidential settlement with the diocese.

"These litigation holds are a big deal because we're seeking the truth here," Neuberger said. "Destruction of the diary and destruction of Monsignor Cini's memos subverts the process and is part and parcel to a coverup."

Arguing for the diocese, Maribeth Minella said it had no control over DeLuca or his diary once he retired, accusing Neuberger of overstating the diocese's obligations under the "litigation hold" doctrine. She also said that notes spawned by settlement negotiations were passed by Cini to the diocese's lawyers as confidential "work product," arguing that Vai's case was not prejudiced by the withholding of the documents.

"They have evidence and witnesses," she said. "If they want information about what John Doe and the monsignor talked about, they should ask John Doe and the monsignor."

Neuberger also pressed Vaughn for an order that would bar parishioners throughout the diocese from serving as jurors in Vai's case. Since the individual parishes are "taxed" to pay for diocese activities, he said, the parishioners have a financial interest in the case. He said the tax probably would be increased in the case of a big monetary judgment against the diocese.

Timothy Jay Houseal, a diocese attorney, said each of the parishes paid a 10 percent "tithe" to the diocese as a matter of church practice, and that the voluntary levy was not subject to increase. He said that, under case law, only Catholics who attend churches in St. Elizabeth Parish, the one that hosted DeLuca and Vai at the time of the alleged sexual abuse, should be stricken from jury duty.

"To exclude all the Roman Catholics is to exclude 200,000 people, which is about a fifth of the state's population," Houseal said. "On its face, that's unconstitutional."

Arguing a motion filed on behalf of the diocese, William E. Gamgort appealed to Vaughn to exclude testimony from the Rev. Thomas P. Doyle, who, according to Neuberger, is one of the country's foremost experts on sexual abuse. Gamgort argued that Doyle does not qualify as an expert on psychiatry, psychology, history or other topics addressed in an affidavit filed on behalf of Vai's cases.

Mary Dugan, another diocese attorney, moved to exclude hearsay evidence from witnesses -- "John Doe" and Doris Schulte, the mother of another man who claims to have been sexually abused by DeLuca -- who, she said, were slated to testify about conversations in the 1960s that they didn't hear first-hand.