Archdiocese Removes Priest from Hospital in Newark after Learning of Molestation History

By Jeff Diamant
Star-Ledger
October 16, 2009

http://www.nj.com/news/index.ssf/2009/10/archdiocese_removes_priest_fro.html

NEWARK -- The Newark Archdiocese removed a priest as chaplain at Saint Michael's Medical Center in Newark this week after hospital officials learned of his history in a criminal molestation case involving a minor and requested his removal.

The Rev. Michael Fugee, who began working at the hospital Sept. 8, admitted to Bergen County investigators in 2001 that he had molested a boy in Wyckoff. He later recanted the statement, saying he felt pressured by investigators at the time to make an admission.

A jury convicted him in 2003 of criminal sexual contact, but that conviction was eventually overturned by an Appellate Court in 2006, for reasons unrelated to his admission.

Bergen County Prosecutor John Molinelli, rather than re-try the case after the Appellate ruling, let Fugee enter a "pre-trial intervention" program that ultimately led to the case's dismissal three months ago. According to terms of a legal agreement with the prosecutor's office, however, Fugee is forbidden from again ministering to minors or having unsupervised access to them as a priest.

Saint Michael's officials learned about Fugee's history earlier this week after The Star-Ledger asked about his appointment, a spokesperson for the hospital said.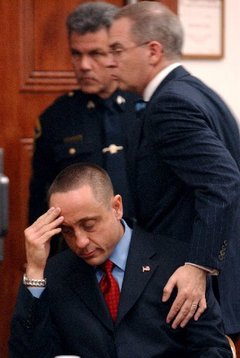 The Rev. Michael Fugee was found guilty in Bergen County Superior Court of sexually fondling a teenage boy. Defense attorney Brian J. Neary pats Fugee, seated, on the shoulder as he proceeds to the judge's bench for a conference after the verdict had been read.
Photo by M. Kathleen Kelly


"The priest in question was assigned by the Archdiocese of Newark….," hospital officials said in a prepared statement. "Based on new information, Saint Michael's has asked the archdiocese to remove the priest. The archdiocese has done so, effective immediately."

A spokesman for the Archdiocese, James Goodness, acknowledged that church authorities removed Fugee from the hospital job on Wednesday. He conceded that the Archdiocese had never informed hospital officials about Fugee's history, because it believed it was sufficient to notify the head of the chaplain's unit, a priest who works for the Archdiocese.

Goodness said the archdiocese will notify hospital staff about similar situations in the future.

Meanwhile, Newark Archbishop John J. Myers is evaluating where Fugee's next job will be, Goodness said.

A Seton Hall graduate, Fugee was ordained in 1994 and worked three years as a priest at St. Rose of Lima Church in Millburn before joining St. Elizabeth's Church in Wyckoff in December 1997.

He was arrested eight years ago following allegations by a 14-year-old boy that he groped the boy's genitals, through clothes. Fugee had been supporting and counseling the boy's mother during a marital separation.

At his 2003 trial, which occurred the year after the clergy sex scandal gained national attention, the boy testified that Fugee groped him several times while wrestling, when the boy's relatives were present; and once when the boy, his mother and Fugee were vacationing in a Virginia hotel.

During the trial, Fugee testified he had merely been wrestling with the boy recreationally. But a detective read a transcript of Fugee's interview with interrogators from two years earlier, telling jurors the priest had told police he was torn over his sexual identity, and had groped the boy's crotch to satisfy an urge, according to Bergen Record coverage of the trial.

The jury, while convicting Fugee of aggravated criminal sexual contact, acquitted him of endangering the welfare of a minor.

He successfully appealed the conviction. Appellate judges ruled that part of Fugee's statement to police, in which he said he was attracted to males, should not have been admitted as testimony because it had a prejudical effect on his case.

"The admission of this statement injected into this case the specter of a jury deciding defendants' guilt on the unfounded association between homosexuality and pedophilia," the court wrote.

The Appellate Court also ruled that the trial judge's instructions on the law -- whether Fugee was truly a supervisory figure in the boy's life, as the statute required for a conviction -- were vague.