Priest 'Abused Me': Cruz: Church Argument 'Hypocritical'

By Brett Kelman
Pacific Daily News
October 20, 2009

http://www.guampdn.com/article/20091020/NEWS01/910200302/1002/Priest--
abused-me---Cruz--Church-argument--hypocritical-

Vice Speaker Benjamin Cruz yesterday said he was sexually abused by a priest while attending a Catholic school in Los Angeles as a boy.

The priest would wake him before sunrise, take the 13-year-old Cruz away to his bedroom and allegedly require him to perform sexual acts, the senator said yesterday.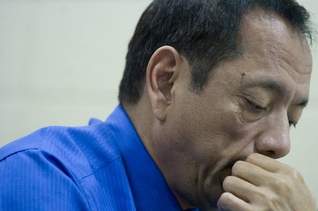 'This sanctimonious hypocrisy has to stop': Legislative Vice Speaker Benjamin Cruz briefly pauses while recounting the alleged sexual abuse he endured as a boy during an interview at his office yesterday.
Photo by Masako Watanab


"He sexually abused me, then we would bathe, brush our teeth, go into the chapel and he would say Mass. I would serve Mass and he would hand me communion," said Cruz, 58. "And this went on for four years."

Recent arguments in a debate over a bill that would allow domestic partnerships on Guam, including those involving gay and lesbian couples, has grown so "hypocritical" that Cruz said he was pushed to recount the abuse he suffered as a child.

Bill 185 would allow Guam's same-sex couples to have the same rights and responsibilities as spouses in marriage. The Archdiocese of Agana has feverishly opposed it since Cruz introduced the bill in July.

Last week, Archbishop Anthony Sablan Apuron read a pastoral letter that called Bill 185 a travesty. If the Legislature passes the bill, it "will forfeit its moral authority to continue to govern this island," Apuron said.

Apuron repeated his message to churchgoers on Sunday. He stood at the pulpit and repeated his message: "Homosexuality is a sin."

Cruz said yesterday that Apuron's statements were infuriating because, while he chastises homosexuals in his own church, sexual abuse similar to what happened in Los Angeles allegedly exists on Guam.

Cruz, a former chief justice of the Supreme Court of Guam and judge for the Superior Court of Guam, said he knew of such alleged incidents because victims approached him years later, but they cannot act because a statute of limitations on prosecution has passed. Cruz also said he can recognize the signs of sexually abusive priests because of his own past.

Officials with the archdiocese were unavailable for comment last night.

Cruz admitted that none of his evidence of alleged sexual abuse on Guam is strong enough to hold in court.

"This sanctimonious hypocrisy has to stop," he said.

"I didn't expect that (this debate) would be as divisive and vitriolic in the community," Cruz said. "That people are now actually avoiding churches. And these aren't just homosexuals or lesbians. These are their family members who have to sit in church and listen to the priest condemn their son or their daughter."

Lawsuit

The Roman Catholic Archdiocese of Los Angeles in 2008 agreed to pay $660 million to settle more than 500 cases of alleged clergy abuse going back to the 1940s, according to USA Today.

Cruz testified in that case against Titian Miani, the former administrator at St. John's Bosco High School, who had allegedly molested more than a dozen victims, including Cruz.

Cruz was a witness, not plaintiff, so he received no money, he said.

In 2008, while the 29th Legislature squabbled about majority leadership, Cruz said he went to Los Angeles to provide a deposition for the case.

Yesterday, Cruz provided a cover page of his deposition as verification, but declined to provide any more pages because he didn't want anyone to read the document.

Cruz said his detailed memory of the alleged abuse was invaluable evidence.

"I didn't want any money," he said. "But what I wanted was to make sure that the suffering stopped. I didn't want any more kids to suffer at the hands of abusive priests."