Mother Seeks Money from Catholic Order for Son

By Mike Owens
KSDK
October 23, 2009

http://www.ksdk.com/news/local/story.aspx?storyid=188058

[with video]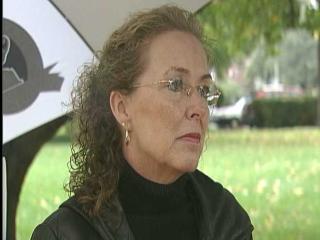 Pat Bond.



KSDK -- An O'Fallon, Missouri woman is speaking out about the Franciscan order of Catholic priests, saying they haven't paid out enough money to take care of her son, who she says is dying of cancer.

Pat Bond says she fathered her 22-year-old son Nathan with Father Henry Willenborg while they were both living in Quincy, Illinois.

Bond says she went to a religious retreat run by Father Willenborg. She was looking for solace since her marriage was ending and she needed direction. She says Willenborg helped her and the two began a sexual relationship in the early 1980s. The relationship lasted five years.

Bond says they lived as man and wife, and the Franciscan order either knew, or turned a blind eye to the relationship.

That changed when Nathan was born in 1987, and the couple continued to live as a family, even taking vacations together.

That lasted for eight months, but the change came when a second woman knocked on Bond's door, and told her she was having an affair with Father Willenborg, and the Franciscans then sent the priest to a sexual addiction clinic.

After that, Father Willenborg saw Bond once more for a sexual encounter, according to Bond.

Then there was little contact, except for arguments about money.

Bond was able to get child support payments from the Franciscans, and eventually, the order, based in St. Louis, set up a court ordered trust fund for Nathan.

The Franciscan leadership would not go on camera, but say in a statement they've met all of the financial demands sought by Bond.

The Franciscans say they've paid out tens of thousands of dollars over the years.

Bond says she still has outstanding medical bills, including $13,000 from a recent trip to a New York medical clinic. She wants the order to pay that bill, too.

Bond says Nathan is dying and will need help burying him. She's asking the order for help there too.


As for Father Willenborg, he's off the job for now. Up until Friday, he was working at a parish in Ashland Wisconsin. However, the bishop there put Willenborg on leave, amid allegations that he had another sexual relationship, this time with a minor.

Later that day, Father William Spencer, Provincial Minister of the Franciscan Province of the Sacred Heart, released the following statement:

"The Franciscans accepted responsibility for supporting the child at the outset, and have provided him significant support. We created a trust fund for him in 1987, and funded it with an amount judged appropriate by a court and a guardian appointed to represent the child's interest.

"A significant payment was also given directly to the mother, in addition to the trust fund. After the mother used trust money for a down payment on a house, the trust became depleted. When the mother initiated further proceedings or made requests on multiple occasions, the community accepted responsibility, and made further payments for the child's support, education and health care.

"Our payments have exceeded legal requirements. We continue to be willing to provide appropriate financial support for the young man, who is now 22.

"We remain concerned for the well being of this young man. He and all persons affected by this story have a special place in our prayers."